1500th Volvo Truck for Nijhof-Wassink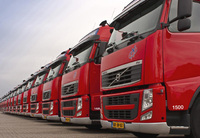 Nijhof-Wassink from Rijssen in the Netherlands has taken delivery of its 1500th Volvo truck - an EEV-classified FH-420 that is to be used for international haulage – continuing a relationship with Volvo Trucks that goes back to 1967.

Operations at Nijhof-Wassink focus on the human factor. "One of the main pillars of Nijhof-Wassink is the company's culture, which is characterised by great team spirit. We are convinced that our employees make the difference and account for our quality. Volvo fits well into this culture, because quality has a high priority for Volvo," says Freddy Nijhof, Director of Nijhof-Wassink.

Like all the other Volvo trucks in the company the 1500th truck is equipped with various safety features since, in addition to quality, safety plays an important role at Nijhof-Wassink. "We can be sure that our people are safe in the Volvo and we feel this is very important," explains Freddy Nijhof.

Nijhof-Wassink has specialised in bulk transport by road, rail and water since 1967 and has branches in the Netherlands, Germany, Poland and Hungary. The company offers unparalleled flexibility, safety, quality and reliability for the transport and storage of dry loose bulk products and liquids.