50+ Citroen vans for Scottish SPCA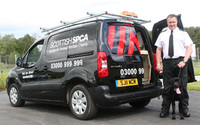 Over 50 new Citroen vans are now beginning their service with the Scottish Society for the Prevention of Cruelty to Animals (Scottish SPCA).

The majority of the current Scottish SPCA order, supplied by Citroen dealer Park's Motor Group, East Kilbride, is for Berlingo HDi 75 manual L1 625 Enterprise models. These vans are well equipped with air conditioning, rear parking sensors and Bluetooth® connectivity as standard.

All the new vans are finished in the Scottish SPCA's eye-catching black and white livery. The new Citroen LCVs will be used by the Society's uniformed inspectors, ambulance drivers and staff in its animal rescue and re-homing centres to pick up injured and abused animals. Each Berlingo holds a number of cages and additional equipment, such as swan hooks and a search light for working at night, as specified by the Scottish SPCA.

The Scottish SPCA operates an 85-strong, all Citroen LCV fleet and this is the fourth order it has placed with the manufacturer in the past four years. All the vans in the current fleet are being operated by ING on three year, variable mileage (according to operation) lease contracts, with maintenance.

Scottish SPCA Finance Manager, John Allan, says: "We like the Citroens because they offer us lower running costs, whilst still giving us the space we need for the cages and equipment our inspectors and ambulance drivers have to carry. We are a charity - we can't afford to waste money."

The current Scottish SPCA order also includes a Relay 35 L3H2 120 6-speed manual van, which has been specified for its ability to pull a 3 tonne GVW double horsebox. The Relay 35 L3H2 and 10 of the new Berlingos, along with some of the existing fleet, will be based at the Scottish SPCA's new animal rescue and re-homing centre in Aberdeenshire.

In addition, the charity is taking delivery of an enhanced-traction Dispatch L1H1 1200 XTR+ van. "We need the additional traction the Dispatch XTR+ offers so that it can go onto beaches and into the hills to help wounded deer," says John Allan.

The Scottish SPCA was established in 1839 and its inspectors and ambulance drivers rescue thousands of domestic, farm and wild animals from harm and danger every year. The vets and staff in its animal rescue and re-homing centres look after, rehabilitate and find homes for thousands more.