Get the party started with the white rCube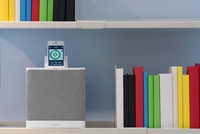 Nothing beats that summer feeling of relaxing in the sunshine with friends and listening to your favourite music. This summer, why not turn up the volume with the gorgeous white rCube iPod speaker.
Portable, easy to use, with unrivalled sound quality, the white rCube is this summer's must-have for any music lover with an eye for design.
Key features include:
Take your music with you – Built in carry handle and batteries that last up to 8 hours mean you can enjoy your music anywhere - BBQs, relaxing in the bath, drinks in the garden, picnics in the park or wherever takes your fancy.
Wireless – Nifty rWand dongle allows you to stream music wirelessly from your iPhone, iPod or iPad from up to 15 meters away.
Unlimited music and radio – Don't have a iPhone? The rWave USB dongle allows you to wirelessly listen to whatever's playing on your computer from up to 100 meters away. Whether it's the radio, an online music library or a party playlist.
World class sound - Unique speaker system delivers exceptional clarity and room-filling sound.
Mix and Match – If you ever get bored of your tracks, you can stream music from friends and family's iPods or pass the rWand around the office to share soundtracks.
Easy to use - Can be operated from your iPhone or the pocket-sized remote control.
The beautifully crafted rCube is a result of more than three years design and development by prestigious British Hi-fi manufacturer, Arcam. The sleek, timeless cube design is physically smaller than a football or your typical handbag and has been created to discreetly fit in with the décor of any room.
Charlie Brennan of Arcam comments, "The rCube is changing the way people listen to music. With no wires to pin you down and the highest audio quality wherever you go, we're on the brink of a listening revolution.
Whether you are waking up to your favourite song, catching up on news via internet radio, entertaining friends alfresco, or recreating that festival sound at home, the rCube brings your music to life."
The rCube is £500 RRP and is available from John Lewis, Selfridges, Harrods and over 200 UK outlets.
For more information about the rCube visit: arcam.co.uk