Citroen 2CV - still breaking records more than 60 years on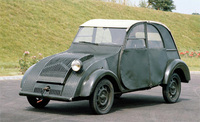 A record-breaking global gathering of Citroen 2CVs is set to take place from 26-31 July at the 19th International 'Amis de la 2CV', an event expected to attract over 6,000 examples of the legendary and iconic Citroen model.

Held every two years, the meeting attracts participants from all over the world who come together to celebrate one of Citroen's longest-running success stories. The 2011 event, involving many of Europe's 2CV owner's clubs, promises to be the biggest yet.

In the setting of a 60-hectare site near Salbris in Central France, four pre-war prototype 2CVs will be on show alongside the contemporary Citroen REVOLTe concept - a chic city car combining luxury and technology, inspired by the 2CV's distinctive silhouette.

Originally developed in the 1930s, most of the 250 prototype 2CVs were destroyed before war - with the exception of three, which were hidden to stop them falling into enemy hands. The fourth was stored by Michelin®. The 2CV was finally unveiled at the 1948 Paris Motor Show, before going on to enjoy a fantastic career with 5,114,940 units sold between 1948 and 1990.

A wealth of activities will be taking place on and off site at the meeting, including; a 2CV 'disassemble-reassemble' competition; a bring-and-buy sale; various children's events; and the use of driving simulators. Road routes will be provided for those wishing to explore the local region and a small number of 2CVs will be on hand for those wishing to discover, or rediscover, the feeling of driving this automotive legend.