Bring a little bit of summer into your home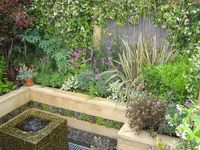 As we continue to enjoy the crazy British weather including the long hot days (and nights) of summer, one housebuilder offers its top tips on making the most of your home and garden this summer.
Award winning housebuilder Miller Homes designs many of its homes (including apartments) to include a small green corner of England – taking care to create an outdoor environment that is every bit as appealing as the house itself. And with so many of us enjoying time spent outdoors, the garden area can be a major factor for prospective buyers when considering their purchase.
"We appreciate that whilst everybody loves having a brand new home they also like having a brand new garden or outdoor space too," commented Jan Hanaby area sales manager Miller Homes Yorkshire. "With gardening being cited as one of the top pastimes for UK residents as well, we thought it important that we offer home owners some inspiration for creating a superb outdoor space perfect for relaxing and entertaining."
Miller has teamed up with Yorkshire based garden designer Jamie Dunstan, winner of a gold medal and 'Best in Show' accolade at this year's RHS Chelsea Flower Show, to offer the following top tips:
• It is imperative to consider what you will use your garden for and also the space that you have to work with. Small gardens can be made to appear deceptively large with the use of imaginative planting and design schemes.
• Use plants that are suited to the soil and conditions you have. By doing this you will have more successful growth and hopefully a spectacular summer display.
• Create a space that you can relax, dine and entertain and ensure that you have adequate outdoor lighting and heating. That way, even when the north wind blows, you can enjoy your outdoor oasis.
"Garden design has unquestionably evolved over recent years with as much attention being focussed on this as interior design," commented Jan. "This reflects a change in living styles and our desire to entertain more at home especially when the weather is kind to us in addition to being a nation of gardening enthusiasts."
Miller Homes currently has twelve developments located across the region offering a range of properties from one bedroom apartments to five bedroom detached family homes.
Purchase initiatives and plot specific offers are available, further details of which can be found by visiting: millerhomes.co.uk