Jet2.com reveals this season's top flight fragrances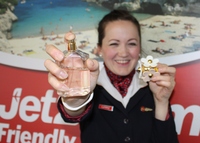 Move over Beyonce and J-Lo...according to Jet2.com, celebrity fragrances are no longer the perfect holiday partner. Instead, holidaymakers are choosing more sophisticated designer scents to spray on in the summer sunshine!

With the holiday season well underway, the north's leading leisure airline has revealed its top selling fragrances, highlighting the growing trend amongst travellers for choosing designer perfumes over celeb creations.

Topping the list for ladies fragrances is the limited edition Marc Jacobs' Daisy Eau So Fresh, a bright and floral fragrance perfect for summer sunshine, while men are opting for Paco Rabanne 1 Million – a sophisticated eau de toilette with notes of grapefruit, mint and blood orange.

Other top selling women's perfumes include the classic CK One Summer and the new Jimmy Choo Eau de Parfum, while men by contrast, are plumping for JPG Le Male and new kid on the perfume block Boss Orange – no doubt hoping to emulate the brand's ambassador, Orlando Bloom!

Paul Humphreys, Retail Director of Jet2.com said: "Going away on holiday is the perfect time for a treat and it's not surprising that top designers are becoming our best sellers, especially given the current climate – people who are passionate about fashion can buy something from their favourite designer without the worry of paying over the odds on the latest trends. The fragrance choices mirror our research which shows that Jet2.com customers want quality but at a great price."

Jet2.com fragrance experts have also created a handy guide for which fragrances best match your holiday destination. Fruity, feel-good scents are perfect for Spanish destinations, sophisticated floral fragrances are great city break companions and spicy, exotic perfumes are the ideal match for eastern Mediterranean resorts like Cyprus and Turkey.

Paul added: "Holidays are the perfect time to experiment and try something new. As well as the classics, it's interesting that the newly launched perfumes are selling well, showing how people are more willing to have a break from their signature scent and try a different brand when they are in the holiday spirit – and with our competitive prices there is no better time for passengers to discover a new fragrance!"

Passengers travelling with Jet2.com this summer holiday season can take advantage of its £5 off promotion when spending £30 or more on products available on board, so there's no better time to stock up on your beauty essentials. Jet2.com offers a great range of fragrances, beauty products, gifts, lifestyle items, a family entertainment range and travel essentials.

The top three best-selling women's fragrances are:

1. Daisy Marc Jacobs Eau So Fresh
2. CK One Summer
3. Jimmy Choo - Eau de Parfum

The top three best-selling men's fragrances are:

1. Paco Rabanne 1 Million
2. Boss Orange
3. Jean Paul Gaultier "LE MALE"

Jet2.com offers flights to over 50 city, sun and ski destinations from eight UK bases – Leeds Bradford, Manchester, Newcastle, East Midlands, Blackpool, Belfast, Glasgow and Edinburgh. Sister company Jet2holidays offers ATOL protected package holidays which combine Jet2.com flights, resort transfers and a 22kg baggage allowance with handpicked two to five star hotels.