Sanctuary, luxury and romance on the Maldives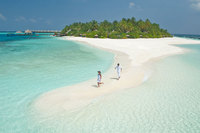 Voted the World's Most Romantic Destination in the 2010 World Travel Awards, it's no wonder that the Maldives remain top of the list for those seeking sanctuary, luxury and romance.

With two idyllic Maldivian resorts, each with their own personality and ambience, a stay with Sun Hotels & Resorts promises first-class service, excellent facilities and amazing vistas. In a nutshell, look no further for the holiday-of-a-lifetime!

Whether staying at the four-star Olhuveli Beach & Spa Resort or honeymooning at the deluxe Vilu Reef Beach & Spa Resort, lazy days stretch into balmy evenings with the turquoise-blue sea playing centre-stage. Aside from relaxing on the pure white-sand beaches, there are plenty of land and water-based activities to sample and excursions that include the romantic Robinson Crusoe experience - with time alone on a private sandbank, or perhaps an evening spent exploring the tiny islands onboard a sunset cruise.

Both resorts boast a Sun International Diving School, with PADI Gold Palm status and extensive courses for beginners through to the more experienced diver; as well as a Sun Spa with an unrivalled variety of treatments based on aromatherapy, Ayurveda, Swedish, Balinese, Thai and Shiatsu practices.

Every holiday is special and that is how each guest is made to feel when they arrive. The only decision to make is which resort to choose?

Olhuveli Beach & Spa Resort (South Malé Atoll) - This 166-room resort is just a short speedboat ride from the airport. A beautiful island retreat with stunning beaches, abundant sandbanks and an array of watersports, it's a haven for those wishing to mix romance with activity. It also offers one of the only registered kite-surfing schools in the Maldives, and with a large, shallow blue lagoon that surrounds the whole island, it is also great for snorkelling. For affordable luxury choose one of the beach-fronted Deluxe Rooms which offer spacious bathrooms and a terrace or balcony overlooking the beach and lagoon.

Vilu Reef Beach & Spa Resort (South Nilandhe Atoll) - Enjoy a bird's-eye view of the Maldives with a 35-minute seaplane transfer from Malé. The first glimpses shows off an island surrounded by lush vegetation, swaying coconut palms and pristine white sandy beaches. This authentic Maldivian 122-room resort has much to offer but its greatest assets are something that no other resort can boast because it's natural: one side of the island is a beautiful protected lagoon and the other side is a beautiful reef ideal for snorkelling and diving.

Push the boat out and stay in one of the six new Water Villas With Pools. Situated on stilts over the water, each villa boasts panoramic ocean views and direct access to the lagoon via a private stairway. For added relaxation, there's a large balcony with extended sun deck, infinity plunge pool, chaise lounges for private sunbathing and a large hammock suspended over the lagoon.

Thomson (thomson.co.uk) is offering seven nights on an all-inclusive basis at Olhuveli Beach & Spa Resort from £1,599 per person (saving £180 per person) or seven nights on a half-board basis at Vilu Reef Beach & Spa Resort from £1,395 per person (saving £180 per person). Valid for departure on 11 December 2011, the price includes return flights from Gatwick, accommodation, resort transfers, taxes and surcharges.