Citroen signs up for EcoVelocity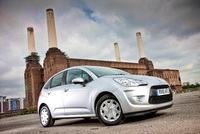 Citroen was the first major car brand to sign up to appear at this year's EcoVelocity motor show on September 8-11.

Citroen will showcase its 'green' credentials with a full range of vehicles on display, including its 100% electric city car, the C-Zero.

Visitors to EcoVelocity, held in the grounds of the iconic *Battersea Power Station, will be able to drive three of the six cars Citroen is displaying, in the only interactive demonstration of the latest electric, hybrid and low-CO2 cars in the UK.

As well as the stylish C-Zero, Citroen will also display micro-hybrid e-HDi versions of DS3, DS4 and New C4.

EcoVelocity Event Director, Giles Brown, said: "The C-Zero has already created an enormous stir in the world of motoring since its launch, and we are very pleased to welcome it at EcoVelocity to offer visitors a chance to test it out on our track.

"To have Citroen on board as the first major car brand to take part is extremely positive, and highlights the fact that greener motoring is now very much on the agenda of leading car manufacturers."

Citroen UK Managing Director, Linda Jackson, added: "Citroen is focused on improving fuel economy and lowering emissions right across our range - as well as encouraging motorists to make environmentally conscious driving decisions. With concept cars like Survolt showcasing future potential for eco-technologies in motorsports, and the zero-emissions C-Zero providing a practical solution for 'green' city driving today, we feel Citroen is taking the right steps. We're delighted to be taking part in EcoVelocity, an event that helps to highlight the importance of driving cleaner, greener cars in our urban environments."

The Citroen C-Zero electric car will be available to drive. With a healthy range of up to 93 miles when fully-charged, the C-Zero is perfect to cut through city traffic with no CO2 emissions and no London congestion charge to boot.

The EcoVelocity Show is run by IMIE, organisers of the British Motor Show and Metro, the World's largest free newspaper with 3.3 million daily readers across 50 cities nationwide.

Joining Citroen will be other market-leading brands such as Fiat, Ford, Honda, Hyundai, Kia, Lexus, Mitsubishi, Nissan, Peugeot, Renault, SEAT, Toyota, Volvo, Vauxhall, Volkswagen and Mia Electric.

Event partners include What Car?, Smooth Radio, TfL, The Mayor of London, Source London, Get On and Green Fleet.

EcoVelocity Ticket prices:
Adult £10
Child £5
Family £25
Family ticket – 2 adults and 2 children

Buy now on ecovelocity.co.uk.