The new BMW 1 Series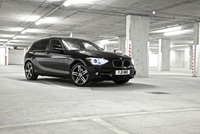 The all-new, second generation BMW 1 Series occupies a distinctive niche within its segment, offering a unique and rewarding combination of agile, precise handling, improved aesthetics and innovative technology. It remains the only rear-wheel drive car in its class and, with a range of advanced TwinPower petrol and diesel engines, offers a sporty but fuel-efficient proposition boosted by BMW's EfficientDynamics technologies fitted as standard.

The previous generation BMW 1 Series has had enormous success selling more than 2.2 million units globally, as well as being the first car in the premium compact segment.
The elegant and dynamic styling of the new BMW 1 Series clothes a car that's 83mm longer, 14mm wider and 30mm longer in the wheelbase than its predecessor. These dimensions create a car with increased cabin dimensions and, thus, greater interior comfort.

The new BMW 1 Series goes on sale in the UK on 17 September 2011, with a choice of three diesel and two petrol engines. Prices start at £19,375 otr for a BMW 116i ES.