Citroen C_42: A summer of Créative Technologie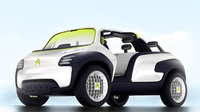 Citroen is celebrating the start of a new summer season at C_42, its international showcase building located on the prestigious Champs-Elysées in Paris.

Entitled "A World of Créative Technologie," the new layout, exhibits and décor will greet thousands of visitors over the next three months as they discover the latest achievements and innovative technology from the Citroen brand.

Two models in the distinctively styled DS line take centre stage. DS4 was voted 'The Most Beautiful Car of the Year' at the 26th International Automobile Festival, while the unique DS3 Racing demonstrates the fusion of style and performance.

Citroen's technological prowess is evident throughout the landmark building. C5's Hydractive suspension is on show and the company's environmental credentials are demonstrated with the all-electric C-Zero. The Citroen Lacoste Concept also provides a futuristic element with a back-to-basics vehicle that still encompasses ground-breaking technology and flair.

In addition to the models on show, Citroen has continued to embrace digital technology with an all-new dynamic and sensory 4D cinema experience created in the Racing area. This is complemented by a cutting-edge 3D holographic tool that allows visitors to configure their own DS3 and the Citroen Social Club,a new area dedicated to the unique link Citroen has with customers and fans through social network platforms.

A special section has been designated to support the sponsorship of the French Pavilion at the Biennale Contemporary Art show, held in Venice during November. Guests can enter a competition to win a weekend break for two in the 'floating city'.

Finally, the new season inaugurates a new-look shop where the public can discover the complete Citroen universe through a range of merchandising collections.