Dr Bronners: Your essential travel companion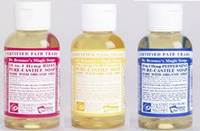 Ever wonder how celebrities have the time to work so hard and fit in a whole host of holidays while still looking the business? Simple! By keeping their regime as straightforward as possible with Dr Bronner's magical multitasking soap! Famous fans include Bobbi Brown, Drew Barrymore, Sandra Bullock and Eminem.
At a practical size of 59ml, Dr Bronner's is a total travel essential – perfect for your summer escapes on holiday, at festivals, or just to have in your bag for life's little emergencies.
Dr. Bronner's travel size liquid soap is £1.69 and comes in 8 different scents including: Citrus, Rose, Lavender, Peppermint, Almond, Eucalyptus, Tea Tree and Baby Mild. All Dr Bronner's products are Fair Trade and organically sourced so you can clean your conscience as well as your skin!
Not only that, but with 18 uses in 1 bottle, you will never have to throw away your toiletries or squeeze your soaps into your bag again. Hallelujah! Dr Bronner's liquid soap can:
Fit into your hand luggage, rucksack, handbag, or pocket!
Be used to clean clothes, hair, body, or face – perfect for festival goers and happy campers!
Be made into a pest spray – the ultimate for hardened travellers.
Treat cuts and grazes – Eucalyptus and Tea Tree get our vote!
Be used to shave for those on the go.
Even help brush your teeth – we recommend the peppermint or almond!
Dr Bronner's is available nationwide including Liberty, select Waitrose stores and leading health shops including Fresh & Wild, Planet Organic and Whole Foods.
For more information, visit kinetic4health.co.uk.