Toyota and Lexus to be the hybrid headliners at EcoVelocity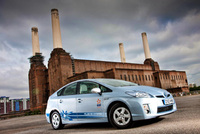 Toyota and Lexus will be showcasing their current and future low emissions full hybrid technology at EcoVelocity, a festival of green motoring that is taking place at Battersea Power Station in London in September.

Visitors to the show will be able to experience hybrid power first-hand, with driving opportunities in the Toyota Prius – the world's best-selling full-hybrid car – and the British-built Auris Hybrid hatchback. Emitting less than 100g/km of CO2, both models are right at home in central London, being exempt from the capital's congestion charge.

While these models are already on sale, there will also be the chance for a close-up look at the next stage in Toyota's hybrid vehicle strategy in the form of the Prius Plug-in Hybrid Electric Vehicle (PHEV). Harnessing advanced battery technology, this car can run further and at higher speeds than a conventional hybrid on its electric motor alone, which means zero petrol consumption and tailpipe emissions.

When battery charge runs low, drivers can recharge the system simply by connecting the car to a standard electricity supply – at work, at home, or at a dedicated public charging point. Unlike all-electric vehicles, Prius Plug-in's hybrid system includes a petrol engine that automatically fires up when required, which means drivers need not worry about the range their vehicle can cover. Already running on London's roads in a demonstration programme, Prius Plug-in will be introduced to the market from next year.

Toyota will also be showing its all-new Yaris – just one week after its official sales launch - and its revolutionary iQ, models which offer plenty of style and practicality and have the agile performance, clever packaging and low emissions and running costs that make them ideal for urban life.

Lexus will also be taking part in EcoVelocity, showing that luxury and environmental efficiency can go hand-in-hand.

Visitors will have the chance to drive the CT 200h, the world's first full hybrid premium compact hatchback, which was launched earlier this year as the new gateway model to the Lexus brand. Its Lexus Hybrid Drive system delivers sub 100g/km CO2 emissions and 68.9mpg combined cycle fuel consumption. At the same time it boasts all the comfort, quality and technical sophistication customers expect of a Lexus. Also on display will be the RX 450h full hybrid luxury crossover.