3M launches new vehicle wrapping web source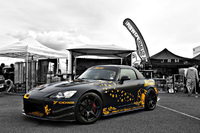 The all-new wrapyourcurves.co.uk web source for vehicle wrapping created by diversified technology company 3M, is now live with improved features to further support commercial and consumer branding needs.
The professional vehicle wrapping site has been re-built to ensure 3M can be found quickly and easily on the web and now includes clearer and more precise search tools for finding car wrapping and van wrapping support services at a local as well as national level. It also offers upgraded web-marketing tools for members, opportunities for wrappers to showcase their work to customers and an improved user experience inviting customer enquiries.
"The new site uses the latest online marketing techniques to maximise sales opportunities for our network members," said Kim Brewer, Marketing Manager, 3M's Commercial Graphics division. "They will now be able to upload photos of their work, present success stories appealing to target customer profiles and use the dedicated YouTube page to inspire potential customers to take the next step and get in touch."
wrapyourcurves.co.uk supports 3M's Local Vehicle Wrapper (LVW) network of specialists across the UK. Launched by 3M in 2009, the LVW network has grown significantly over the years and now connects car owners and businesses with over 70 trusted specialists.
wrapyourcurves.co.uk will be the go-to site for vehicle wrapping having been completely re-designed as a source of independent, unbiased advice and guidance to buying and maintaining wrapping products. The site aims to become an authority for key trends in the commercial and consumer wrapping applications and will soon be an information hub for streaming industry-related news.
It will also be the go to place to view the latest trends in vehicle wrapping, such as matte black wraps and carbon fibre vinyl! This services-oriented web site provides all the necessary information to generate potential leads stimulate offline sales and build relationships.
Through an enhanced user journey and experience visitors can browse an image gallery, watch videos, read case studies, submit queries and locate specialists via a postcode search facility. On submission, a list of national, regional and local vehicle wrappers closest to them will appear, prompting them to get in contact. "Wrapping is increasingly popular with all kinds of vehicle owners, from large fleet operators to self-employed tradesmen, car customisers and vehicle owners who simply want a new look without the hassle and expense of repainting," continued Brewer.
"By signing up more top notch specialists to the network on wrapyourcurves.co.uk, we are ensuring that local support for our high quality wrapping films is readily available, with zero failure and fast turnaround on install." All members of the Local Vehicle Wrapper network deliver assurance to customers large and small that all components used to produce the vehicle graphics have been tested and designed for optimal performance, functionality and durability.
According to Paul Turner Signwriters of Leeds, 'We have been using 3M products for over 15 years. The success we have had with Controltac Graphic Film IJ380 from 3M for vehicle wrapping can be described as spectacular. During trials carried out in 2007 we wrapped one of our own vehicles and the livery looks as good today as it did then. We have been amazed by the level of conformity achieved by comparison with other similarly positioned films that have tended to lift or crack when applied to difficult vehicle recesses. The film is now used for all our vehicle wrapping requirements.' For further information, visit wrapyourcurves.co.uk and 3M.co.uk/graphicsolutions.