Luxury of Magic within Pembrokeshire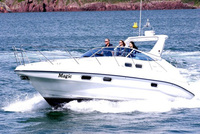 If you and your family are looking for something extra special and unique to help celebrate an occasion close to your heart, have everyone climb aboard the beauty of Magic, admire the outstanding marvel of the Pembrokeshire coastline and rest your head in a peaceful, three star hotel situated in the bustling, pretty boutique town of Narberth.
During your valued time in Pembrokeshire, it is recognised how important having a restful, relaxed place to stay can be which is why your privately owned, high standard hotel is the perfect palace for you and your loved ones. The hotel's name in English translates to 'lovely palace' which is a theme that has been embraced and carried right through the establishment and projects through the decor in every of their fourteen en-suite rooms. Accommodating couples in executive suites, families and friends in a variation of room arrangements, all inclusive of en-suite bathrooms, flat screen TV's and complimentary refreshments.
The facilities within the welcoming hotel are modern and well maintained, with an extensive range of alcoholic and non-alcoholic beverages available in the cuddly lounge bar, the front terrace forming a relaxed area outside and restaurant serving only the highest standard of fresh, local Pembrokeshire produce under great, executive chef guidance.
Your exclusive time nestled into your families break aboard the stylish and impeccable motor cruiser 'Magic' will simply end too soon, as you witness the abundance of unspoilt, spectacular South Pembrokeshire coastline from the secret waterway. Upon leaving Milford Marina your personal skipper will lead the cruise taking you to admire places such as St Govan's Head, the beautiful Barafundle Bay, seaside towns of Tenby and Saundersfoot and the monastic Island of Caldey offering a very unique, but treasured view.
The marvel of Magic never fails to amaze as on board catering varies to suit the tastes of its passengers, from local organic nibbles to the more exotic gourmet experience. Everything that Magic contributes to your families experience is primed to the highest standard and finest detail.
The Luxury of Magic in Pembrokeshire provides family and friends time away to view our cherished Pembrokeshire county aboard a very special and adorable vessel. Combined with a terrific, warm hotel you will witness everything there is to be desired.
From £195 per person for 2 nights B&B accommodation and a cruise along South Pembrokeshire coast.
For more information, visit activitywales.com.