Kenya calendar of events August 2011 - July 2012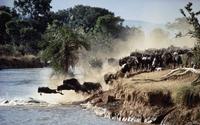 There is a lot more to Kenya than its fantastic safaris. After returning from a day exploring the plains, holidayers can see a whole different side to this much loved country. Visitors to Kenya can expect an array of exciting events this year: from music festivals to the famous wildebeest migration, there is something for every member of the family this year in Kenya.
The Wildebeest Migration: July – October 2011
The thrilling wildebeest migration takes place from July to October each year. With over 1.5 million wildebeest and zebras on the run for the green pastures of the Maasai Mara, it is one of Kenya's most dramatic and memorable safari experiences. Wildebeest can be heard for miles away as they thunder over the Kenyan border towards the freshly grown and nutritious lands.
Maralal Camel Derby: 19th – 21st August 2011
Held annually in the northern region of Maralal, Africa's most popular camel race is well attended by enthusiasts from across the world. The event is a fusion of colours, cultures and marvellous animals. The derby spans three days and attendees can either stay in tented camps in Maralal or at the famous five-star Maralal Safaru Lodge. The course is 42 kilometres long and passes through the Maralal Township and semi-desert environments.
For more information visit: magicalkenya.com
Rift Valley Music Festival: 2nd – 4th September 2011
This music festival is an intimate gathering of local and international artists, combining traditional African roots and global styles and providing a stage for established as well as developing talent. The line-up will include local Kenyan bands such as Juma Tu Tu, K Force and Villagers band as well as UK artists Ample Soundsystem, Yam Yam and Racubah.
For more information visit: riftvalleyfestival.com
Lamu: Kenya's enchanted Island – Cultural Festival: November 2011
Off the coast of northern Kenya is the town and islands of Lamu; Kenya's oldest town and one of the original Swahili settlements along coastal East Africa. Listed by UNESCO, it is a prestigious World Heritage site. A great time to visit is during the three day Lamu Cultural Festival each November, which showcases traditional dances, displays of handicraft and music and theatre performances from both local and visiting artists.
For more information visit: lamuheritage.org

Safaricom Sevens: 18th – 20th November 2011
The Safaricom Sevens is Africa's leading seven-a-side rugby tournament. Since the event first took place in 1996, it has grown steadily in strength and prestige.
For more information visit: safarisevens.kenyarfu.com
Jamhuri Day: 12th December 2011
Jamhuri Day is Kenya's most important holiday. The country celebrates its independence from the United Kingdom since 12 December 1963 with feasting, dancing, military parades and air shows. Kenyans love to celebrate with food, so Jamhuri Day is a good chance to try local delicacies, from Ugali (ground maize flour and water) and fish to Githeri (boiled maize and beans), Mursik (fermented milk) and Ingoho (a chicken dish).
Prosurf Extreme Kitesurf: February 2012
Prosurf Extreme Kitesurf sees professional and amateur kitesurfers compete at Mombasa's idyllic Nyali Beach on Kenya's north coast. Competitors take part in down-wind races and kicker and freestyle competitions.
For more information visit: prosurfkenya.com
Kenya Open Golf Championship: March – April 2012
One hundred and fifty golfers compete in the annual Kenya Open Golf Championship. The tournament, played at the Muthaiga Golf Club in Nairobi, makes up part of the PGA European Challenge Tour.
For more information visit: kenyaopengolf.com
Rhino Charge: June 2012
Rattling through the African wilderness is 'Rhino Charge', an annual 4WD fundraising race held in the bush approximately eight hours from Nairobi. The adrenalin filled competition raises money for Rhino Ark, which play a large part in the protection of Kenya's Aberdare National Park. For more information visit: rhinocharge.co.ke
Safaricom Marathon and Half Marathon: June 2012
There are few more extraordinary places in the world to run a marathon than a wildlife reserve in Kenya. Participants in the Safaricom Marathon and Half Marathon share the running route with giraffe, zebra and even elephants. This fundraising event hosts over 1,000 runners from 20 different countries and is regarded as one of the toughest marathons in the world. Runners of all abilities take part, from fun runners, walkers and amateurs, to professionals such as Paul Tergat the Kenyan international and former world record holder.
For more information visit: lewa.org/lewamarathon