The older you are, the more you save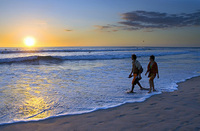 In times of austerity and with the summer holidays in full swing, it's no surprise that consumers are being bombarded with promises of promotional offers, discounted rates and last-minute deals. As holiday companies fight to get the public's attention, London based travel specialist Journey Latin America have come up with an unusual special offer that is bound to grab the attention of the more mature traveller.
The Central and South America travel specialist has teamed-up with a select number of high-end boutique hotels in Costa Rica offering their clients a percentage discount based on the age of the oldest passenger. Bring 100-year-old Aunt Ethel to Central America and provided you share a room together, the hotel is 100 per cent free!
The offer applies exclusively to the following hotels:
Lapa Rios
A luxury wilderness eco-lodge in a private reserve, near Corcovado National Park on the Osa Peninsula. With over 300 species of birds and many mammals, it is an excellent area for wildlife with miles of private trails in lush rainforest. A three-night stay starts from £720pp. This price includes return flights from San José and breakfast.
Arenas del Mar
The secluded beachfront resort of Arenas del Mar is located close to the Manuel Antonio National Park. Located on a wild, tropical beach with rocky outcrops backed by lush forest, there is a network of trails where you may see a variety of monkeys and over 350 bird species. A three-night stay starts from £237pp. This price includes breakfast.
La Finca Rosa Blanca
Cradled in densely-wooded hillside this white-washed country guesthouse is a delight - and it is only a 20 minute drive from San José. The architecture is reminiscent of Gaudi and fairy-tales, with inspired use of metal-work throughout the suites and villas. A three-night stay starts from £350pp. This price includes breakfast.
The Harmony
A top quality boutique-style hotel which offers its guests a warm welcome. It is located close to the isolated village of Nosara, beside Playa Guiones on the Nicoya Peninsula, where the crashing Pacific rollers are favoured by surfers. A three night stay starts from £258pp. This price includes breakfast.
The offer is valid for new bookings travelling from 28 August 2011 – 15 November 2011. The offer is valid for two people sharing a room. The offer applies to all room categories and is subject to availability.
For more information on Journey Latin America and to see a full range of holidays, visit journeylatinamerica.co.uk.