Body, mind and soul retreat at Spa Village Resort Tembok, Bali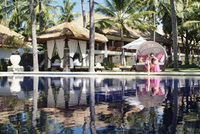 The second Oracle Retreat takes place at Spa Village Resort Tembok, Bali from October 22-29, 2011. The 31-room luxury resort, situated on the island's secluded northeast coast, is renowned for its shimmering volcanic black sand infused with curative properties. In this most magical and nurturing of settings fronting the calm Bali Sea and protected by the majestic Mount Agung and Mount Batur, one may take the rare opportunity to achieve the perfect balance of mind, body and spirit.
Participants at the Oracle Retreat are guided on their personal life journeys by renowned wellness practitioners like Diana Manilova (lifeevents.org), Marc Cofer (brainstate.org), Wanny Winsloe (foodmoodsex.com) and Dewi Hopley (dewihopley.com). The upcoming eight day, seven night Oracle Retreat will introduce participants to a variety of effective healing modalities and techniques. Fun, interactive and engaging workshops held each day will provide each individual with new life-changing skills and illuminative frames of perception, all of which invariably create new and different ways of looking at and relating to the world, along with the many challenges it presents.
The seven-night retreat includes accommodation in a Kamar Room, a welcome foot ritual, daily delicious and healthful meals, non-alcoholic beverages and a celebratory farewell dinner at Wantilan Restaurant, nature walks, two daily workshop sessions held by the practitioners, one 30-minute pre-treatment ritual and 50-minute Balinese massage, guided meditation evening classes, one customised aromatherapy oil blend, group holistic activities and access to the highly acclaimed Spa Village. The Oracle Retreat is priced from USD1,740++ for double and USD1,950++ for single occupancy respectively. As a special incentive, repeat guests of the retreat will receive a 50-minute spa treatment for each night of their stay.
For more information, visit ytlhotels.com.