Driver input helps Volvo secure Crediton Milling deal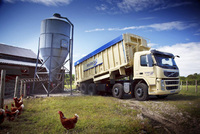 A recent order for three new Volvo FM animal feed bulkers and one new FM 6x2 tractor unit was secured by Volvo dealer Truck and Bus Wales and West Ltd., largely as a result of driver preference.

The new four-axle rigids, which are equipped with Priden Engineering four-compartment bodies and bulk blower equipment, will deliver the complete range of animal feed throughout the South West of England and South Wales.

"Whatever Volvo Trucks are doing to attract drivers, it is certainly paying off," said Crediton Milling's Managing Director Mark Gulley. "Our drivers have always been keen to get behind the wheel of a Volvo truck and now that we have some in the fleet the feed-back is very positive," he added.

Final specifications for the new Volvo FMs were agreed between Mark Gulley, his drivers and Volvo Transport Solutions Executive Justin Fisher.

Two of the eight wheelers and the tractor unit are equipped with the spacious Volvo Globetrotter cab in the interests of driver satisfaction and overall appearance. All vehicles feature the Volvo 13-litre engine rated at 420-hp driving through a Volvo I-Shift fully-automated gearbox.

"Many of our customers have commented on the appearance of the new Volvos. And they recognise that by investing in new equipment we are doing our best to guarantee delivery of their feed whatever the circumstances", Mark Gulley explained.

A spokesman for the company acknowledges that having been 'pointed in the direction of Volvo' by the drivers it was good to be provided with a 'seamless and hassle-free purchasing process' by the Volvo sales team.
For more information, visit creditionmilling.co.uk