Because fashion is our substance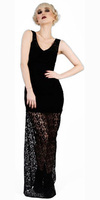 Make the statement of sophistication as you enter the room. Wear the dress you can't go wrong in. You're a woman of substance. Your sense of fashion is classic and timeless. Wear the dress you always turn to when you want to "look right" for the occasion.
Substance Wear is focused on draping the body in understated eveningwear made of the finest silks and chiffon. These are dresses you can move in. Substance Wear fills a gap in the marketplace for 18-40 year old women who are looking for eveningwear that derives more from boutiques in the West End than cocktail lounge culture.
From the vintage Grecian dress to the Pewter Lame Wrap Dress, Substance Wear combines the talents of several up and coming designers including French designer Harmony Genovese and emerging Japanese designer TAKA. All 9 current designs were hand-selected to embody the brand ethos of sophisticated-smart-elegant and are limited edition pieces running in UK sizes 6/8-12. Prices range from £300-600 per item and are all made in England.
The beautiful garments look beautiful on camera and blend nicely with many types of accessories. By using Substance Wear for your shoot, you'll appeal to a large demographic looking for ready-to-wear-fashion with a little something extra.
For more information, visit substancewear.com