Lifestyle Retreats revitalizes hideaway resort in West Bali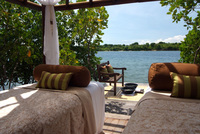 Harmoniously located on the fringe of the West Bali National Park, The Menjangan, the latest addition from the hospitality group, Lifestyle Retreats, has received praise for its nature inspired concept and approach. The unique property, with its 382 hectares of land set within national park boundaries, combines rustic elegance and contemporary design and services with absolute solitude.
With nearly 20,000 hectares of savannah, rainforest, monsoon forest, mangrove swamp and coral reef, the West Bali National Park consists of a variety of small and not so small animals, marine life and some 160-bird species that includes the endangered Bali starling.
"The Menjangan works well by simple virtue of its proximity to a wonderful parcel of conservation, having a quality and carefully-integrated retreat immediately next to such stunning park presents a distinctive destination experience," said Lifestyle Retreats Managing Director, Jose Luis Calle. "We take on an extra level of respect and responsibility with the property and its surroundings for example, pets and non-indigenous plants are prohibited in order to protect the habitat from disease."
The Menjangan's minimalist interiors, up-market cuisine and soft impact activities such as hiking, horseback riding, diving, snorkeling and kayaking provide a genuine Bali experience. "The concept was straight forward, to create a serene hideaway that is as accessible to families as is to couples," said Calle. "Imagine you can head out for a snorkel or dive in the morning, take a stroll in a pristine park to the sound of birdsong or, ride horseback as the sun goes down in the afternoon"
The newly completed 12-room, two-suite Monsoon Lodge, a modest- sized haven of tranquility enveloped by nature with a common pool and deck, is a reflection of how responsible building can blend effectively in sensitive environments.
At Sentigi beach, The Menjangan's traditional "joglo" style villas are designed for laidback privacy meters away from a lapping oceanfront. Decks are furnished with beach and beanbag chairs and interiors with minimalist interiors and a design sensitivity that folds traditional Javanese architecture with modern flourishes such as dramatic picture windows looking out to an expanse of sea.
The Residence, a 1000 sq meter butler kept facility is equipped with two double bedrooms and one twin bedroom all with private balconies and fetching ocean vistas. The Residence is designed for several couples sharing, families or small groups. Isolated from the lodge and villas, privacy is a key feature at The Residence with a common living room, private outdoor deck and shaded pool majestically perched on a cliff overlooking Bayun Bay.
To transport guests from accommodation, dining spots and facilities, Lifestyle Retreats designed double decker, safari-style minibuses also equipped with spotlights for impromptu animal spotting after dark.
Destinations in the facility include the Mangrove Spa comprised of four balé (elevated open air gazebos) with a spa menu that offers a range of traditional Balinese massages using organically sourced products.
The Menjangan's Bali Tower, a handsome log structure houses the lobby and restaurant. Its five floors and viewing platform above the forest canopy provide picturesque views over the national park and coastline. At beachside, the resort's Pantai restaurant provides deck dining and Azur a serene seaside cocktail lounge popular throughout the day and evening.
Lifestyle Retreats is a carefully planned departure from traditional management styles: it focuses on delivering guest satisfaction hand-in-hand with employee welfare - development and social responsibility. Lifestyle Retreats currently manages award winning The Bale Nusa Dua, The Amala in Seminyak and The Menjangan within West Bali National Park with new resorts under development in Thailand and Vietnam. For further information, visit lifestyleretreats.com.