New gourmet adventures around the world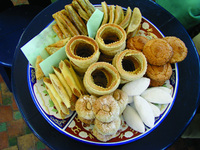 Carefully selected boutique style hotels, cooking demonstrations and meeting other chefs from the regions make up the ingredients of these sumptuous new trips from World Expeditions:
NEW India Culinary Tour 18 days
Staying at beautiful heritage hotels, the journey will encompass master classes with well-known Indian chefs while also dining in specialty restaurants across the country from south to north. The diversity of cuisine is equalled by the contrasting landscapes and cultures as it encompasses the relaxed pace of Kerala in the south, the bustling streetscapes of the capital New Delhi and much in between. The tour includes an overnight train journey, superb wildlife sightings at Periyar National Park and a cool drink overlooking the sands of the Rajasthan Desert. The unique home stays and the vast history, palaces and forts of Hyderabad, Mumbai, Udaipur and Jaipur provide another captivating tangent to the trip.
Price: £3,790 per person
Departs: 8 October 2011, 5 March 2012
NEW Food Lovers' Peru 16 days
With magnificent mountains, glorious coastline and Amazonian jungle, Peru is one of the world's 'hottest' food destinations. Under the guidance of a highly experienced local team and in the company of self-confessed food obsessive, culinary journalist and lifetime food traveller Joanna Savill, you will get the chance to explore every aspect of this truly exciting gastronomic melting pot. Markets, street food, superb modern eateries and traditional taverns, cooking classes and even cocktail demonstrations are all part of the journey. The Incan treasures of Machu Picchu are also included, as well as plenty of time for shopping for local intricate textiles, fine silver and luxurious alpaca-wool knits.
Price: £3,490 per person
Departs: 10 November 2011
NEW Morocco Cuisine and Culture 15 days
Experience this very special gourmet tour of Morocco, escorted by well-known Moroccan food expert Meera Freeman. Staying in stunning riads in Marrakech, you will visit historical monuments and gardens, as well as the medina surrounded by food and produce stalls. There will also be a traditional Moroccan cooking lesson, learning from a traditional chef. You will then travel to Skoura to follow the route of 1,000 kasbahs, wander around the food market at Rissani and take a camel ride to the dunes of Merzouga, to view the sunset and spend the night in a luxury tented camp with local food and music. The trip ends in Casablanca after exploring the city of Fes and Morocco's capital, Rabat.
Price: £4,590 per person
Departs: 15 April 2012
NEW Wine, Poets And Pilgrims Of Northern Italy 15 days
Discover the enogastronomic wonders of northwest Italy: Barolo wine, cured meats and hand-crafted cheeses... This trip is all about beautiful hotels, stunning walks, fascinating history and culture - plus exceptional food and wines! Experience a cooking class with a Piedmontese chef and meet with winemakers and local producers. Visit beautiful Parma, the undisputed gourmet capital of Emilia Romagna. Walk part of the Via Francigena pilgrim route and discover an untouched area of Tuscany before descending to the Gulf of Poets on the Ligurian coast to explore the quaint villages of Cinque Terre.
Price: £4,290 per person
Departs: 20 April 2012
NEW Tastes of Bali 10 days
For a small island Bali has an immensely rich cultural history. This gourmet adventure consists of cooking classes, traditional massages, market visits and sightseeing, while evenings are enjoyed sampling the best of Balinese cuisine. You will spend time at the beautiful Jimbaran Bay, one of Bali's best beaches, the small fishing village of Candidasa, and then Ubud, the cultural heart of Bali, and the popular area of Seminyak. With a predominately Hindu population, the island is renown for its spiritual festivals, diverse art forms such as painting, handicrafts and performing arts, along of course with its culinary delights.
Price: £4,250 per person
Departs: 8 May 2012
For more information on World Expeditions' gourmet adventures, visit worldexpeditions.co.uk. Prices do not include international flights, however these can be arranged on request.