Volvo and Siemens launch electric mobility partnership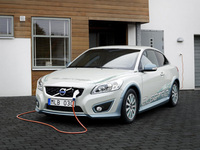 Volvo Car Corporation and Siemens intend to jointly advance the technical development of electric cars through extensive strategic cooperation.

The focus is on the joint development of electrical drive technology, power electronics and charging technology as well as the integration of those systems into Volvo C30 Electric vehicles.

The first electric cars of this model fitted with Siemens electric motors will be on the test tracks as early as the end of this year. Beginning in late 2012, the Swedish carmaker will deliver a test series of up to 200 vehicles to Siemens, which will then be tested and validated under real-life conditions as part of a Siemens internal test fleet.

Sharpens competitiveness
The two companies' goals and core competencies in electric mobility are perfectly matched.

The partnership gives Siemens the chance to extend its industrial leadership in electric drive technology into the automotive market together with a renowned vehicle manufacturer.

Volvo Car Corporation will be relying on proven and efficient Siemens technology for the electrification of its future vehicles.

"We are very happy to have Siemens as a partner. Their world-leading knowledge and experience will bring the technology in our electric cars up to an entirely new level," says Stefan Jacoby, President and CEO of Volvo Car Corporation. He continues: "We are moving ahead quickly in this area. Our aim is to be first with the latest technology within electrification. The partnership reinforces our aim to pursue the fast-growing market for electric cars."

Pioneering electric mobility
Electric powertrain, battery management and charging technology are regarded as key technologies in the development and production of electric cars.

"Co-operation with Volvo is an important milestone in the development of top-quality components and systems for electric cars subsequently intended for series production," says Siegfried Russwurm, Siemens Board member and CEO of the Siemens Industry Sector. "It is our long-term goal to establish Siemens as a global system provider both inside and outside of electric vehicles. We see ourselves as a comprehensive electric mobility pioneer."

Siemens electric motors developed for Volvo have a peak power output of 108 kilowatts with a maximum torque of 220 Nm. The inverter design will be jointly optimised to meet all safety requirements in an automotive application. In addition, Siemens will provide highly efficient and fast on-board and off-board charging systems.

Moving towards series production
Volvo Car Corporation starts small-scale production of the Volvo C30 Electric this year, and next year the company will start selling the Volvo V60 Plug-in Hybrid.

"This means that we are moving from prototypes and small volumes towards series production, starting with the plug-in hybrid. Our upcoming new Scalable Platform Architecture paves the way for electrification throughout our model range," concludes Stefan Jacoby.