Young family discover ideal holiday home at Caedmon's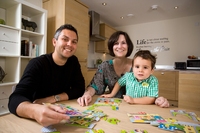 A young family from the East Midlands who found their perfect seaside holiday home at Caedmon's Prospect in Whitby have some familiar neighbours after their parents were so impressed by the development too that they purchased the apartment next door.
Joanne and Paul McCudden, from Leicestershire, have purchased a luxury two-bedroom, third-floor apartment at the exclusive development on Chubb Hill and are now renting it out to visitors wishing to enjoy a short break in the coastal town themselves.
But so impressed were Joanne's parents when they came to have a look around that they purchased an apartment there too and also now spend most weekends in Whitby.
Joanne, who is originally from Yorkshire, comments, "When Paul and I started to look for a holiday home I recalled visiting Whitby as a youngster and loving the beaches, its quaintness and how it's a bit different and more special to other coastal towns. With a three-year old son, Ben, to think of we thought this would be perfect so began to have a look round.
"We were originally looking at a little fisherman's cottage but the potential costs for renovating and maintaining the property in the future were quite high. With an old 1670s listed thatched cottage back home we decided that was enough work and therefore started to see what new-build options were available in the town and quickly came across Caedmon's Prospect.
"Our new apartment here is fantastic and has views out across the communal garden and the tops of the North York Moors. It's much bigger inside than you imagine and the finish is really high-end. Plus it's only a short five minute walk to the centre of town, the beach and the train station. On our second visit we brought my parents along and they were so impressed that they've even purchased an apartment too and spend most weekends here."
Paul adds, "Whilst we love spending time here as a family, we were also keen to offer the apartment as a holiday home to rent so other people can experience the joy of Whitby themselves. Not only that but it helps us cover the costs whilst we're back home in Leicestershire."
Linda Tillisch, Northern Sales Manager for Kebbell Homes, comments, "Caedmon's Prospect has proven particularly popular amongst purchasers looking for a second home, such as Joanne and Paul, because of its car parking provision, high specification in each apartment and the over quality of build, which just allows them to relax and enjoy all that Whitby has to offer. Its location is superb too, just a few minutes from the many amenities of the town centre as well as the beach, making it an ideal location for those with children to base themselves from."
For more information about the McCudden's holiday apartment at Caedmon's Prospect, visit whitbyholidayhome.com.
Prices of the remaining homes at Caedmon's Prospect start at £179,950 for a two-bedroom apartment. For more information why not visit the two elegant and luxurious show homes at apartments 3 and 16 located on Chubb Hill, open daily between 10am and 5pm. Alternatively, visit kebbell.co.uk.