Citroen's new Tubik concept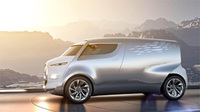 Citroen will present a brand new, highly innovative concept vehicle at this year's Frankfurt Motor Show. Called Tubik, this eye-catching model is a high-tech executive shuttle based on one key idea - travel should be fun.

Building on Citroen's Multicity project - an online portal and route finder, currently live in France, which covers all available means of transport (car, train, plane, etc.) - Tubik takes mobility solutions to the next level. Featuring the very best of Citroen's 'Créative Technologie', Tubik is specifically designed to make travel meaningful and enjoyable.

Inspired by Citroen's renowned Type H or 'TUB' van, but with all the prestigious styling and characteristics of modern Citroen design, Tubik is a 9-seater packed with entertaining technology. Exceptionally striking both inside and out, Tubik boasts offbeat, distinctive styling with colours and materials designed to meet the highest standards of sophistication and comfort.

As part of its design philosophy, Tubik responds to a changing society where extended families and groups of friends travel together, often in numbers exceeding four or five, with plenty of room for luggage.

To make travel enjoyable for its passengers, Tubik incorporates a lounge-style cocoon dedicated to comfort and relaxation. The modular seats are designed to be arranged in many different ways (semi-reclined, face-to-face, etc.), and the onboard technology - which includes a giant semi-circular screen and high-definition surround sound - turns the cabin into an area that is perfect for sharing over long distances. With the Citroen Tubik concept, the journey becomes as important as the destination.

Offering generous space whilst minimising fuel consumption, Tubik is powered by Citroen's innovative Hybrid4 technology. With this full-hybrid diesel drivetrain and optimised aerodynamics, Tubik maintains CO2emissions at a level comparable to a conventional saloon.