South Wales homebuyers drawn to a simpler move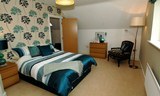 Making a move up the property ladder can be stressful at the best of times and with this, homebuyers are looking for ways to make the move easier. One of the most problematic areas for homebuyers that need to be addressed is property chains.
These chains can lock families into difficult and often stressful relationships with complete strangers and all too often fall apart at the final stages, leaving people disappointed and needing to start the process over again.
To help overcome these issues, developer Crest Nicholson is offering homebuyers a fair value Part Exchange Scheme at its recently launched Penarth Heights development, removing the pressures of finding a buyer for their existing home and continuing these fragile chains.
Laura Osborne, Sales Manager for Crest Nicholson, commented: "The part exchange scheme offers an ideal solution for homebuyers looking to upsize and provides an immediate cash buyer for their home, with independent valuations ensuring that they receive market value. This can give homebuyers extra piece of mind by removing complicated chain delays and breakdowns, often significantly reducing the time it takes to move into their dream home.
"At Penarth Heights we have already seen a number of people exploring Part Exchange thanks to the ease of the process and the stress and worry it removes. A larger property is within easy reach with this scheme, which is ideal for those with growing families or those who just want extra space and the peace of mind of a new property.
"Penarth Heights is located on one of the most prestigious and picturesque development sites in Wales, and we are really excited about the stylish range of properties on offer which means that there really is something for everyone. We would encourage people to come and visit us, so they can find out about how we can help them to find the perfect home using our part exchange scheme."
The process is simple with potential purchasers first identifying the Crest Nicholson property they wish to buy - then the company will arrange for three independent local estate agents to value their existing home. Providing the home meets the terms and conditions required for the part exchange, Crest Nicholson will make an offer on the property. Once the offer is accepted, customers can reserve their brand new home without the additional cost of any agents' fees to pay.
Located just outside Cardiff, Penarth Heights has something to offer everyone from beautiful views across the marina, as well as a large variety of shops and leisure facilities, making it the perfect location for those who enjoy a mix of bustling city life and picturesque surroundings.
The development of 377 properties includes a mix of contemporary one, two, three, four and five bedroom properties - 20 per cent of which will be affordable homes. It combines four exciting phases to create the region's most sought after lifestyle destination, with the first phase, Renaissance, including an eclectic collection of one and two bedroom apartments and two, four and five bedroom homes, with many enjoying far reaching views of the water.
The recently launched five bedroom Admiral show home – which is the jewel in the Penarth Heights crown – has been carefully dressed out by Penarth-based interior designers and landscape gardeners Hamptons Home and Garden Design. It is set over four floors and boasts ample space in which to entertain or enjoy the family, including a large open plan kitchen/dining area, which opens out onto the beautifully landscaped garden, in addition to a large living room with balcony, study and double garage.
Prices currently start from £129,000 for a one bedroom apartment, £159 950 for a two bedroom flat over a garage, £399,000 for a four bedroom home, with five bedroom homes available from £790,000. For more information, visit crestnicholson.com.