Open the door to new Vamizi Island Retreats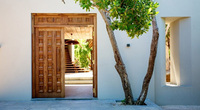 Vamizi Island, Mozambique have invited renowned yoga teacher Claire Finlay to host the retreats, following a principal of nurturing and incomparable escapism taken at each individual's desired pace and at one with the elements.
Claire has studied alongside Simon Low of Tri Yoga and David Life and Sharon Gannon co-founders of Jivamukti Yoga as well as Shiva Rea, Paul Grilley, Sarah Powers and Claire Missingham.
Guests may choose to start the day with vinyasa yoga on the shoreline, followed by a freshly prepared juice or smoothie from the islands 'natural pharmacy'. You may then choose to take to the seas to catch a supper of surf fresh tuna sashimi or dive the world famous Neptune's Arm both led by experts in the fields of Deep Sea fishing and Scuba diving.
Lie back and read your book whilst samango monkeys play nearby and weaver birds work over head or take a beach combing walk, snorkeling trip or a walk with the island's own naturalist. Claire will lead a second yoga session in the evenings as the sun goes down on another day in this remote paradise.
This is exercise and nutrition as nature intended, the beach is your gymnasium and the ocean is your larder, your time will be spent outside at one with nature and this blissful hidden island gem off the coast of Mozambique will work its magic over the course of this quite extraordinary retreat.
2012 Vamizi Island Retreat dates run from 21st - 27th Jan, 10th - 16th Mar and 10th - 16th Nov and costs from £2,550 per person including deep sea fishing, scuba diving, yoga, snorkeling, internal flights transfers and accommodation on a fully inclusive basis. BA international flights cost from £595 incl taxes to Dar Es Salaam.
For further information and reservations, visit vamizi.com.