A million miles from the Xbox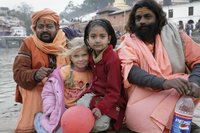 There are some things that your children will never experience on an Xbox or Play Station such as learning a Stick Dance with natives in Nepal, exploring a Masai hut with walls made out of dung or learning how to pick tea.
Families Worldwide offers a host of trips that provide families with priceless cultural encounters which will have a profound effect on children who are cosseted in a safe, electronic environment at home. Here are just three ideas for October half term.
Himalayan Adventure (Nepal) – from £1664 pp (min. age 5)
Commencing in Kathmandu, highlights of the 13-day Himalayan Adventure include pottery making, village visits, white-water rafting (optional), hiking & camping in the Annapurna foothills, the Royal Chitwan NP, bathing elephants and a Tharu Stick Dance with local villagers. The holiday departs on 23 October and costs from £1664 per child (min. age 5), £1899 per adult which includes flights, all transportation, 10 nights' accommodation (hotels/camping/lodge) most meals and the services of a tour leader.
Meet the Masai people in Kenya – 10 days from £1484 pp
Introduce your children to the Masai way of life on the 10-day Rift Valley Explorer trip to Kenya departing 19 October. Experience the great African outdoors whilst staying in a mix of hotels and camps to enjoy views of Kilimanjaro from Amboseli, the serene beauty of the Rift Valley lakes – with extraordinary flamingo filled Lake Nakuru – and the grassy plains of the Maasai Mara, literally teeming with big game. This is not just a safari; it's a learning experience about Africa and the Masai people. The holiday costs from £1484 per child (min. age 7), £1699 per adult which includes flights, all transportation, 7 nights' accommodation, most meals and the services of a tour leader.
Half term with the Hilltribe people of Thailand – 11 days from £1304 pp
Learn about the lives of the hilltribes in northern Thailand on the exciting 11-day River Kwai & Hilltribes itinerary, departing 21 October. The trip will provide a thorough insight of the country and highlights include a city tour of Bangkok, the Bridge on the River Kwai at Kanchanaburi, the ruins and temples at Ayuthaya and the jungles of Chiang Mai where there will be a trek, bamboo rafting and an elephant-back ride. A night will also be spent in a homestay in a hilltribe village. The trip costs from £1304 per child (min. 5 years) and £1499 per adult which includes flights, all ground transportation, 9 nights' B&B (plus one dinner) and the services of a tour leader.
For more information, visit familiesworldwide.co.uk.