Late summer sun at the Amieira Marina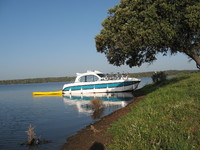 Whisk the family away on a houseboat holiday this October half term to the Amieira Marina. The marina is situated on Europe's largest man-made lake in the Alentejo region of Portugal and offers the perfect opportunity to catch some late summer sun.
The stunning Alqueva Lake is the largest man-made lake in Europe and visitors to the marina are free to self-navigate the Grande Lago where activities such as kayaking, swimming and fishing can be enjoyed.
A range of vessels are available with a capacity from two to 12 people and no sailing license is required as training is given upon arrival. All boats are fully equipped with a bathroom, kitchen, living area, bedrooms, sun deck and barbecue as well as safety equipment and navigation technology including GPS and sonar.
Guests can dock easily and explore the nearby villages on foot or by bicycle. Friendly locals, winding streets and traditional Portuguese restaurants welcome visitors to this hidden corner of the Alentejo.
Prices are the same per person for the six, eight and ten-berth boats based on full occupancy. A four night break at the Amieira Marina departing Wednesday and returning on Sunday for six, eight or ten people starts from €180 per person (£158 per person*) based on full capacity. The price includes boat insurance, cooking gas and technical assistance. This offer is valid for travel between 17th September and 5th November and excludes flights and transfers.
Escape the approaching British winter and enjoy the beautiful sunshine of the Alentejo with temperatures averaging 20 degrees in October. So why not book a houseboat holiday at the Amieira Marina this October half term for a family holiday with a twist.
*[All GBP prices as per exchange rate on 19/9/2011]
For more information, visit amieiramarina.com.