Lovely jubbly – DVLA sells Del Boy's perfect plate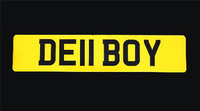 DE11 BOY and EA57 END are going under the hammer… and yes, it's totally "cushty" and not a sketch from Only Fools And Horses!

Arguably, the perfect personalised registrations for crafty Cockney Derek "Del Boy" Trotter, the registrations will go under the gavel at the DVLA Personalised Registrations three-day auction commencing on Wednesday, September 28.

With reserves set at £3,000 and £1,000 respectively, there is a huge amount of interest already surrounding the two registrations which are among the 1,500 being auctioned at Down Hall Country House Hotel near Bishop's Stortford.

While they will understandably take the plaudits for being the most humorous plates being sold in this autumn's sale, the so-called "star" registration is undoubtedly 36 O complete with its £10,000 reserve.

Damian Lawson, DVLA Personalised Registrations' Marketing Manager, said: "These two plates are proving hugely popular with immense interest from potential buyers already surrounding them.

"DE11 BOY stems from our hugely successful 11-series of registrations released for sale last year and while it is unsuitable to sit on a Reliant three-wheeler, it would look terrific on any car registered on our roads from March 1st this year."

In total, DVLA's forthcoming auction will comprise 1,500 registrations chosen to offer an eclectic mix to suit all tastes, styles and budgets including; 666 A (reserve - £3,000), ALF 44C (£400), A1 HAT (£1,000), BER 8A (£350), BO55 COE (£900), 10 CLS (£1,800), DE11 BOY (£3,000), DOG 70Y (£400), EA57 END (£1,000), GTR 5S (£400), LAW 80Y (£500), LAW 805S (£400), 811 LLY (£1,700), 1 MUC (£3,100), NAG 80Y (£400), 11 NSX (£450), 36 O (£10,000) ONE 80B (£450), OOH 848Y (£400), OUR 80B (£450), RAJ 88B (£400), RAG 70P (£500), RAV 11H (£400), SOL 41R (£350), UK51 NGH (£900), 1 WWF (£3,200).