Maserati and La Martina renew their partnership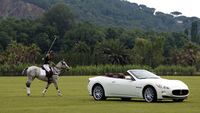 Maserati and La Martina, the prestigious Argentinean company specialising in polo equipment and clothing, renew their partnership with significant news.

Sportiness, passion, excellence and quality of materials, attention to detail, traditional values brought into the present are the common characteristics which unite the two brands; two brands that today, as always, are capable of arousing great emotions.

To celebrate this prestigious partnership, Maserati will be sponsoring the Italian team during the European qualifiers for the Polo World Championship, which will take place from September 22 to October 2, at the Villa Sesta Polo Club in Bucine, near the Tuscan town of Arezzo. The tournament is a prelude to the world finals which will be held in Argentina in October and will see Italy facing England, France, Germany and Holland. The European tournament will be only the first of a series of events bringing together the two prestigious brands in the coming years.

To seal Maserati's long-lasting collaboration with a leader in the quality sports clothing sector, the highly anticipated line of "La Martina for Maserati" limited edition polo shirts will soon be introduced. Inspired by the shirt of the Italian national polo team, it will be available in La Martina's flagship stores, Maserati dealerships and online at maseratistore.com.