Devereux Transport benefit from Volvo's Flexi-Lease and Fuelwatch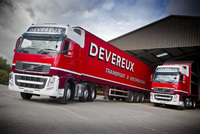 Respected independent, family-owned haulier Devereux Transport of Billingham, has put six new Volvo FH 6x2 tractor units into service with the north-east company's smartly turned out fleet.

All the trucks were supplied by the Stockton-on-Tees Dealerpoint of Volvo Truck and Bus Centre North & Scotland.

Fuel economy of the FH13-460s is reported by Managing Director Ken Devereux to be good: "We're seeing between 10 mpg and up to 11 mpg depending on the run they're doing."

Ken added that the FHs began returning good fuel figures from the first time the trucks went into service saying that, "They were on the mark with the fuel economy straight out of the box."

The first two FHs are on Volvo's Flexi-Lease programme. A major benefit of this is that the operator can take advantage of a break out clause after only 12 months into a 24-month contract.

Ken Devereux reports that having the option to return the trucks after 12 months gives peace of mind to operators, like him, who are trying the Volvo product for the first time in a number of years.

"We'd heard some good reports about Volvo's fuel performance so we decided to try them out," said Ken. "The dealer is close by at Stockton where the two trucks on the Flexi-Lease will be maintained on Volvo Contract Maintenance. The Volvo dealership also has an MOT bay and they are doing annual tests on a number of our trailers there."

All the FHs in the Devereux Transport fleet, including those that are on Volvo's Flexi-Lease programme, are equipped with Dynafleet telematics which plays a crucial role in the accurate measuring of their fuel economy.