Cadbury House listed as one of UK's brightest businesses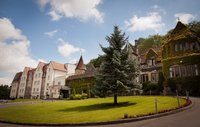 The South West's premier hotel, conference centre, health club and spa has been listed as one of the brightest businesses in the UK.
It follows a report by the Daily Telegraph newspaper which has mapped out companies that have not only weathered the economic downturn but are set to be the foundation of the country's recovery.
Featured on the list is DoubleTree by Hilton, Cadbury House in Congresbury, North Somerset the four-star, boutique-style hotel and house and its state-of-the-art health club and spa.
Employing 250 people, mainly from the local area, the venue is now regarded by many as the best hotel, conference and wedding venue across the South West. It follows an investment of over £20 million by the current owners to transform the former country club into a modern venue ideal for weddings, private parties, business events, spa breaks or fine dining.
Its reputation was further enhanced with the opening of the Marco Pierre White Steakhouse Bar & Grill in October 2010.
The research was compiled with the help of NESTA, the innovation agency, which identified fast growing companies, and business information specialist Dun & Bradstreet (D&B), which verified the information.
The newspaper also polled more than a dozen membership organisations, as well as taking nominations from readers and conducting research of companies receiving peer acclaim.
Colion Badcock, general manager said: "It's testament to the management and staff that DoubleTree by Hilton, Cadbury House has been identified for its success.
"The past few years has seen something of a transformation for the venue which has helped attract not only business people from across the world but tourism and those looking to enjoy all the region has to offer.
"We employ 250 people, many of whom live locally and the business also employs the services of many local suppliers making it an integral part of the local / regional economy.
"By becoming part of the DoubleTree by Hilton franchise has seen the four-star hotel attract more tourists to the area including those flying to Bristol Airport.
"It has also raised the bar in terms of the standard of hotels visitors to the region can now expect and will mean other operators having to emulate the high level of accommodation and service now available at Cadbury House.
"The award-winning health club is also regarded by many in the industry as being one of the most advanced in the country as is evident by the FIA Flame Award.
"We constantly strive for excellence and always looking to evolve through investment and although we don't actively chase recognition it's great to see Cadbury House flying the flag for the South West."