Cape Town and safari combo just got cheaper and easier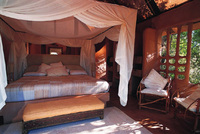 Specialist Tour operator Sally and Alice Travel Co. is offering a fantastic 8-night Cape Town and Safari package including two free nights, including international flights on Emirates from the UK, and domestic flights on SA Express.
The total price for an 8 night trip is from GBP2,290* per person based on 2 people sharing including 4 nights at the delightful and centrally-located Cape Cadogan in Cape Town on bed &breakfast basis followed by 4 nights at the authentic, owner-run Garonga Safari Camp on an All Inclusive basis, including all safari game drives and guided walks as well as flights and private transfers throughout.
*This offer is based on travel in November 2011 (peak season).
Please note that off peak rates are available at Garonga between April and September 2012.
Garonga is an exclusive 12-bed safari camp situated west of Kruger National Park in South Africa's Limpopo Province. Accommodation is in fabulous en-suite safari tents - each with its own viewing deck with hammock and both indoor and outdoor showers. Whilst offering viewing of big game such as lion, elephant and rhino, Garonga promises a more intimate wildlife encounter through its excellent game drives and wilderness walks. Specialist activities include outdoor candlelit bush baths, tree-house sleep-outs, bush picnics ... as well as pampering sessions by the resident aromatherapist. Garonga offers bush cuisine to tantalise the taste buds - and a relaxed 'home from home' ambience where the service is superbly efficient, professional, unobtrusive and friendly.
The Cape Cadogan is a chic boutique hotel in the centre of Cape Town with 12 luxury suites and a fully equipped, exclusive villa.
For more information and to book, visit sallyandalice.com.