Tumbling Rand is good news for Brits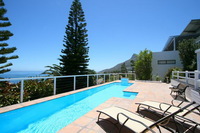 The continued fall in value of the South African Rand against the pound over the last two weeks has seen holiday prices for South Africa dropping steadily (a total fall of 25% since the beginning of 2011).
Specialist operator Fleewinter offers more options to Cape Town and South Africa than any other UK company and it is passing on the savings from the fall of the Rand directly to its customers.
For example the price of a 2 week stay over Christmas at Reflections, a three-bedroomed villa located in the popular Camps Bay area, was priced at £7500 on Thursday 15 September (or £1250 per person when six share).
Today, the same holiday is £6880 (or £1147 per person) – a reduction of £620 purely on the strength of the altered exchange rate.
By combining a Cape Town stay with a Kruger safari further savings can be made (South Africa Airways flies three times a week from Cape Town to Hoedspruit).
For example, a three night safari staying at Tanda Tula is £315 pp (two sharing) - a drop of £75 per person in the space of the last week.
The price includes all meals, 2 daily safaris, optional bush walks with a ranger & tracker plus selected drinks & laundry.
Fully-bonded, Fleewinter can book flights and car hire on request. For more information, visit fleewinter.com.