£2 gym bag essential to restore aching muscles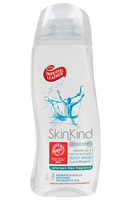 Whatever the sport, hitting the showers after a hard workout should be a refreshing and reviving treat to restore the body and mind back to optimum performance level, but for those with skin that is prone to irritation, it's never as simple as wash-and-go.
While the spicy, masculine fragrances contained in many shower products may smell nice, the pain and irritation they can provoke when applied to sensitive skin simply isn't worth the risk.
From the Imperial Leather - Product of The Year winning - SkinKind range, Restore Hair & Body Wash revitalises and relaxes aching muscles. What's more it has an intoxicating fragrance, which is gently formulated for sensitive skin.
Made with a careful combination of light, moisturising ingredients and clever allergen-free fragrances to minimise the chance of irritation, it gently cleanses, restores, and leaves behind a subtle masculine scent, so those with sensitive skin can freely indulge.
Restore Hair & Body Wash is an energising blend of marine extracts and vitamin B5 - known for its soothing, healing and skin-regenerating properties.
Perfect for the gym bag, it simultaneously cleans hair and skin, while reviving aching muscles - particularly good after exercise.
The sporty, masculine fragrance combines juicy bergamot, citrus and ozone, with base notes of sea moss and sandalwood, supercharging tired limbs and leaving a lasting scent on the skin, meaning there's no need to cart around aftershave.
Also available in a Bath Soak, Restore is the ultimate way to reward aching limbs after a particularly strenuous session in the gym.
Dispelling the myth that those with sensitive skin need to keep fragranced grooming products at arm's length, SkinKind Restore uses a careful choice of ingredients to minimise the chance of irritating sensitive skin.
In fact, SkinKind is made from a palette of allergen-free fragrances so even the most sensitive skin types can freely indulge knowing that skin will remain healthy and cared for.
The Imperial Leather SkinKind range of shower and bath products are available from all major retailers, with an RRP of £1.83 per 250ml bottle and £1.85 per 500ml bottle.
For more information on the SkinKind range, visit facebook.com/ImperialLeatherUK.