Ten top reasons to Britz New Zealand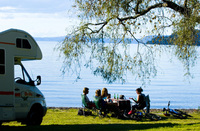 With hundreds of English rugby supporters 'britzing' New Zealand this month, there are plenty of good reasons for holidaymakers to take their eye off the ball and explore New Zealand in a Britz Campervan for themselves.
Often regarded as a holiday of a lifetime, New Zealand is ideally suited to a driving adventure with awe-inspiring scenery, friendly 'kiwis' and plethora of attractions which can be best explored leisurely cruising through the picturesque countryside and stopping off along the way.
Offering a range of campervans, from cosy two berths to luxurious vehicles that can sleep up to six, Britz offers the 'perfect match' for those who enjoy the freedom to park up when and wherever they like with all the chattels of a well-equipped holiday house on hand.
With many great reasons to put 'Britzing' New Zealand at the top of any holiday list, here are a few to kick off:
1. Good on the Budget: With the growing concern about global markets and personal finances, Britz campervans offer a cost effect way of exploring New Zealand without breaking the bank. With immediate savings made by combining car hire with accommodation, thrifty holidaymakers can watch their budgets without impacting on any of their enjoyment by opting to 'free camp' in a selection of wonderful wilderness areas, picking up freshly grown produce from roadside stalls and markets to create a gourmet dinner in the camper and indulging in nature's attractions such as digging your own hot tub to soak in on Coromandel's aptly named Hot Water Beach.
2. Flexibility: With accommodation on wheels, holidaymakers can choose to stop when and where they like, for as little or as long as they like, without having to worry about cancelling hotel reservations or being left with nowhere to stay. Nothing like pulling up to an idyllic spot and putting the kettle.
3. Made to Suit: Whether travelling as a couple wanting a romantic break or with the children on an adventure holiday, Britz offers a unique range of carefully tailored campervans to choose from, including the compact two berth Trailblazer with its 1.90m long large double bed to the roomy six berth dual cab Renegade whereby all the family can sit upfront with the driver and have lengthy rest offroad in 2.23m long beds.
4. From Camp to Glamp: New Zealand has an excellent range of camping ground facilities ranging from 'New Zealand's Top 10 Holiday Parks' with swimming pools, spa baths and tennis courts to the option of 'Freedom Camping' in some districts. Whilst nature lovers can enjoy the spectacular and often remote Department of Conservation Camping Grounds that are found throughout New Zealand's National Parks, more sociable travellers may be more at home staying at one of the 'Native Parks Motorhome Havens', a selection of privately owned rural properties which offer genuine kiwi hosts and hospitality.
5. Room with a View: No need to pay extra for that sea view or bedside vista out over the mountains. Simply pull over and park as required.
6. Britz Bikes: Enabling travellers to explore even more off the beaten track, Britz have introduced Britz Bikes so that travellers can pick up a bike as part of the campervan hire. With a selection of models, ranging from hybrids, which are great for country trails or getting around town, to more hard core mountain bikes for serious off road riding, they come with all the kit - helmet, flat pedals, bottle cage, rear rack, repair kit, pump, spare tube, tyre levers, multi tool and lock and 0800 on road service.
7. Forward planning - Forget Jane: Helping holidaymakers make the best out of their trip, Britz offer a selection of suggested itineraries and regional highlights on their website. Ensuring that you a never at a loss on what to do next, Britz Campervans also come with 'Tourism Radio' an automated personal tour guide which uses the latest of GPS technology to point out prominent landmarks, scenic highlights and attractions as you approach them.
8. Early Bird Offer to Remember: Customers booking a Britz campervan 120 days in advance of travel receive NZ$120 cash back when they return their vehicle as an extra thanks for booking early - the perfect amount to buy that special holiday souvenir. Valid for travel until 31 March 2012 – conditions apply.
9. Ski with Britz – Campervans are just not confined to the summer. Combining ski lift passes at New Zealand's top ski resorts with campervan hire, Britz offers fantastic winter deals for the ski season including the NZ Superpass which offers ski passes as well as a choice of activities from jetboating, bungy jumping to wine tasting for those who want a rest from the slopes.
10. Young at Heart - Britz is renowned for annually introducing new and innovative campervans unique to their fleet and therefore has one of the youngest fleets in New Zealand with an overall age of 2.9 years and maximum of 5 years.
For further details on scoring the holiday of a lifetime, visit Britz campervans today.