Volvo tridem offers improved weight distribution and payload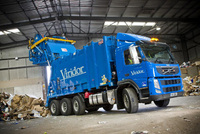 Three Volvo 8x4 rear-end-loaders featuring a 'tridem' rear axle arrangement are proving so successful that West Country waste recycling company Viridor has recently placed orders for additional vehicles.

Truck and Bus Wales and West salesman Andy Button was convinced of the merits of the tridem configuration for certain waste operations and worked with Volvo sales engineers, body-builder Heil UK and with Viridor South West regional fleet and plant engineer Gary Elms in order to determine the best possible specification.

"This vehicle is almost perfect for our operation", reported Viridor's Gary Elms. "Not only is the weight distribution much better than that of a traditional eight-wheeler, but the tridem scales in at a whole tonne lighter too. On our type of work these factors are hugely important," he confirmed.

Specified with the 13-litre Volvo engine rated at 420-hp and the Volvo I-Shift fully-automated gearbox the Volvo FM tridem is fitted with a 27-cubic metre Heil 'Big Bite' compactor body.

The tridem features a conventional double-drive rear bogie ahead of which sits a steering axle fitted with single-tyres. This unusual configuration is offered as an option to a traditional twin-steer eight wheeler and has the advantage of offering much better weight distribution for rear-end-loaders.

Viridor driver Shaun McCaskey reports that his tridem is 'a dream to drive' and that the Volvo I-Shift gearbox is 'the best I have ever driven'. Based at the Viridor depot in Taunton he says that he enjoys checking the fuel consumption on the on-board computer and watching it improve week by week. "My mates are always on at me about my steady driving style, but when you've got a truck as good as this it pays to look after it," he said.