WGSN Global Fashion Awards announce new category and sponsor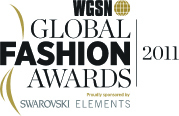 The second annual WGSN Global Fashion Awards, sponsored by SWAROVSKI ELEMENTS, are taking place at New York City's Gotham Hall on the 20th of October where the stars of global fashion will be honoured and celebrated – those who have been propelling the industry forward across all domains with stylistic and innovative vision. The WGSN Global Fashion Awards welcomes a new category and sponsor for the second annual event: 'The LYCRA Style Emerging Talent Award'. These award candidates are selected as the best up-and-coming talent from the WGSN Global Fashion Awards shortlist to compete for the award, which includes Raoul, Eudon Choi, Kirsty Ward, Timo Weiland and Masha Ma.
The winner of this award will receive consulting, marketing, technical and sourcing services in conjunction with the development and launch of their autumn/winter 12/13 collection.

The LYCRA brand has enjoyed a long history of discovering and supporting emerging design talent all over the globe and we are pleased to continue this tradition with the WGSN Global Fashion Awards." says Libby Neuner RTW Global Marketing Director for INVISTA one of the world's largest integrated producers of polymers and fibers, and owner of the LYCRA fiber brand.
"We're so delighted to have secured this partnership with a brand so prestigious as LYCRA® and a brand so committed to supporting up-and-coming talent. This is more than just an award, it could really kick-start someone's career and it's wonderful for us that the Global Fashion Awards can offer that platform," says Lauretta Roberts, Director of the WGSN Global Fashion Awards.