Suzuki winter tyre programme puts safety first and saves money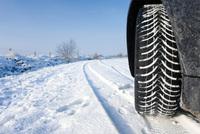 Rain, snow and sub-zero conditions make winter the most hazardous time of year on the road. Suzuki GB PLC is keen to ensure drivers are well-equipped to tackle the worst the weather can throw at them by offering a great value winter tyre promotion.

By fitting winter tyres to their vehicle, Suzuki owners can increase safety just when they need it most. Michael-Le Flay, Suzuki Aftersales Marketing Manager, explained: "Many people are unaware of the fact that when temperatures drop below 7°C, the rubber in standard tyres becomes harder and less flexible, which affects braking and cornering performance.

"It doesn't matter how many electronic aids your car may have, the quality of its tyres is critical. The compound used for winter tyres, and their tread design are tailored to cope with adverse conditions, so that the best levels of car control can be maintained. A survey carried out in Canada concluded that they offer an improvement in braking performance of up to 25 per cent and up to 38 per cent less chance of having a collision."

Fitting winter tyres can also be an investment as motorists travelling an average annual mileage could get two or three years use from a set as well as greatly reducing the chances of salt corrosion to alloy wheels if fitted as standard. Switching over tyres in the winter months can also mean the difference in reaching a destination safely rather than having to postpone the journey, or at worst, having to abandon the car - a very common sight on the roads last winter.

Suzuki has quality winter tyres now available for all current models; for convenience, the Winter tyre programme consists of a ready to fit wheel and tyre set and, taking Alto as an example, are available at just £106 each including VAT with a full set of wheel trims available for £33 including VAT.