Four Seasons Resort Kuda Huraa unveils The Night Spa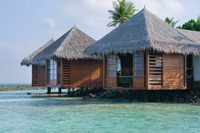 From this autumn, guests at Four Seasons Resort Kuda Huraa can indulge in a one-of-a-kind nocturnal ritual: The Night Spa.
Open from 10:00 pm to 1:00 am nightly, The Night Spa offers a choice of four 150-minute open-air lunar rituals on The Island Spa's private, starlit beach.
Devised by Sodashi to attune the body with nature's purest rhythms, each ritual features exclusive treatments that combine the magic and mysteries of the infinite night sky with Sodashi's therapeutic-grade extracts, essences and techniques.
"The Island Spa takes on an almost magical quality at night," explains Assistant Spa Manager Cassandra Forrest. "When you combine this with the warm tropical air, the thrill of sailing across a starlit lagoon, and the benefits of the open-air rituals, it all adds up to a pretty special spa experience."
Guests are collected from their villa by a member of The Night Spa's team and escorted to a tiny private dhoni to commence the minute's sail across the resort's lagoon. Once at The Island Spa, they are invited to enjoy refreshments in the open-air torch-lit lounge, before being escorted to an open-air pavilion for one of four lunar rituals, designed in conjunction with the moon's four main phases: REFLECT eliminates toxins, balances emotions and facilitates renewal during the New Moon; NOURISH provides strength and rejuvenation during the Waxing Moon; HARMONISE calms, restores and synchronises the body's rhythms during the Full Moon; and RELEASE luxuriously cleanses and purifies the body and mind during the Waning Moon.
"The Island Spa is the ideal location for this unique approach," concludes Cassandra. "It's like sailing away to your own private, moonlit utopia, where there's nothing to distract from the power of the rituals."
Each lunar ritual can be enjoyed at any time but will have the most benefit during its linked lunar phase. All rituals must be booked a minimum of 24 hours in advance.
The Island Spa
Just a minute's sail across Kuda Huraa's lagoon, The Island Spa melds time-honoured Asian traditions and all-natural Sodashi products with innovative approaches for men, women and children.
In addition to the Night Spa, highlights include: the Kuda Spa Menu - 12 interactive treatments that see kids as young as six blending their own massage oils, activating 'magic' lava shells and learning how to play Tibetan Singing Bowls; dedicated men's treatments including the Renewal Men's Ritual; The Island Spa Bath Ritual Menu - offering guests a choice of 13 aromatherapy baths prepared in the comfort of their room; and multi-day spa programmes focusing on detoxification, rejuvenation and romantic pampering. 'Healthy-eating' options feature on all restaurant menus, with multi-day spa programmes further complemented by The Island Spa Rejuvenation Menu at the resort's Reef Club restaurant.
For more information, visit fourseasons.com/maldives