Incredible India: The mystical Dravidian lands of Tamil Nadu and Kerala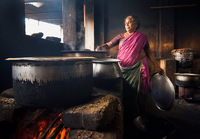 As the winter chill starts to creep around corners and slip through the cracks in the doors, the prospect of spending the festive season in a deliciously warm and exotic location begins to seem increasingly attractive.

If you enjoy photography one delicious possibility is to consider a festive photographic adventure with Wild Photography Holidays visiting the mystical Dravidian lands of both Tamil Nadu and Kerala.

Some Highlights:
Mamallapuram: world famous shore temples
Gingee Fort: an ancient boulder-strewn landscape
Tiruvanamalai: superb street and market photography
Tanjore: unique temple architecture
Pondicherry: chic French sea-side resort
Sathanur Dam: ancient 'coracle' fishing boats
Cardamom Hills: emerald tea plantations
Bay of Bengal: fishing villages
Kerala backwaters cruise
Chinese Fishing Nets Cochin
Madurai: bicycle rickshaw
This is an in depth exploration of South India whose culture like its people, is a rich mosaic, vibrant, chaotic, riotous and spiritual, a place of incredible contrast and paradox: a singularly beautiful land offering abundant opportunity for landscape, environmental portraiture and architectural photography, a wonderful opportunity to refine photographic and post processing skills skills while gaining a real insight into the art of travel photography.

Guests will be encouraged to develop their own distinctive style as they put together a coherent portfolio of images documenting their journey whilst having a lot of fun with like-minded people; incredible India is truly one of the world's most astounding photography locations. All levels of photographer are welcome as are non-photographer spouses/partners; all will be treated to a delicious array of accommodations including The Sparsa Eco Resort in Tiruvanamalai, a delightful French colonial hotel in Pondicherry, The Heritage Hotel Madurai, Blackberry Hills, a mountain resort with stunning views, a tranquil houseboat experience and last but certainly not least two nights at The Secret Garden hotel in historic Cochin.

This holiday departs 21st December 2011 and is for 16 days. The cost is £2,380 per person. Price includes all accommodation (14 nights hotel, 1 night houseboat cruise), all breakfasts and dinners, transfers to and from the international airports, the services of an Indian English speaking escort, photographic tutor, Lightroom tuition, expert location guides, air-conditioned transport, special New Years Eve Dinner and Christmas Day lunch.
Special Offer 100 pounds discount per person for two people booking together and sharing a room.
Wild Photography Holidays

WPH specialize in photography holidays and workshops visiting unique locations in Iceland, northern Spain and India their holidays are very carefully researched and their services very personal.

For more information, visit wildphotographyholidays.com.