Volvo's whole life costs impress Rhys Davies Freight Logistics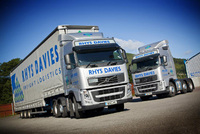 Impressed by promising fuel returns and the 'total offer' presented by Volvo dealer Truck and Bus Wales and West, national independent logistics provider, Rhys Davies Freight Logistics has recently taken delivery of eight new Volvo FH tractor units. This will be followed later in the year by the delivery of eight new Volvo FM rigid vehicles.

It is several years since the high-profile Welsh headquartered company acquired new Volvo vehicles and Operations Director Paul Hodgkiss attributes the latest purchasing decision to 'well presented whole life cost argumentation' and 'demonstrable fuel efficiency'.

The new Volvo 6x2 tractor units feature the Volvo 13-litre 460-hp engine, two-pedal I-Shift automated gearbox and a spacious Globetrotter cab. All the vehicles were delivered in the striking Rhys Davies silver livery.

Supplied complete with a full seven-year repair and maintenance package the new 44-tonne Volvo tractors will be operated nationwide across the company's eight transport and warehousing depots.

"Our priorities were fuel economy, reliability and a safe and comfortable work place for the drivers," commented Paul Hodgkiss.

The Rhys Davies Operations Director also confirmed that Truck and Bus Wales and West Sales Manager John Perry had been tenacious in his desire to secure a sale and that the involvement of the Volvo head office staff at Warwick had proven a major benefit. "There is no doubt that talking to senior staff and engineers can be very helpful," said Paul Hodgkiss.

The company will use them to service clients in an area spanning from Andover in the south to Whitburn in Scotland; catering to national blue chip companies as well as smaller local accounts.

Consistent on-time delivery is essential in the company's pursuit of customer focus and having a reliable fleet was a key factor in this decision, especially given that Rhys Davies Freight Logistics have secured several high profile new accounts in recent months.

The offer of the Volvo telematics system Dynafleet Online was also taken up by Rhys Davies after a demonstration of the system promised 'significant management opportunities'.

"The possibility of further Volvo purchases now depends entirely on the effectiveness of the Volvo dealer network", said Hodgkiss. "The product is good, but we now need to be convinced that Volvo's nationwide back-up is as good as we've been promised", he concluded.