Discover Mauritius with 'Mini-tineraries'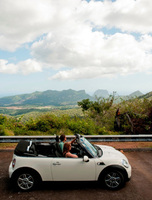 A cool alternative to traditional island sightseeing, Four Seasons Resort Mauritius at Anahita has launched 'top-down' tours of the island. With a tailored route preprogrammed into the Convertible Mini Cooper's sat nav system, guests can embark on their own mini adventure.
Whether looking for picture-perfect beaches, dramatic backdrops or local markets, there are a choice of four 'Mini-tineraries' to choose from, including Adrenaline, a Culinary, and Family, all of which have been carefully created to offer tailored insights into the island.
For those looking to experience the natural beauty of Mauritius, the Scenic 'Mini-tinerary' is a descent from 2000 feet to sea level in just 45 minutes, and captures the island's most diverse terrain, from the valleys of Black River National Park in the south west to the island's famous World Heritage site of Le Mourne.
Adrenaline seekers can burn off with mountain quad bikes before climbing to the peak of Mauritius' second highest mountain, Corps de Garde; while food-lovers can take in the most authentic culinary hotspots, including Bois Cheri tea plantation and Port Louis' China Town. Family fun includes a beach picnic watching kite- and wind-surfers, followed by a trip to Casela Nature and Leisure Park for a Segway Safari or a visit to feed the Aladabra tortoises.
Available in partnership with Europcar, the 'Mini-tineraries' comprise a full day, rental prices for a Convertible Mini Cooper and sat nav system. Start from 4765 MUR plus VAT per day.
For further details on Four Seasons Resort Mauritius at Anahita, visit fourseasons.com/Mauritius.