Removal bookings for Anglo Pacific boosted by Christchurch earthquake rebuild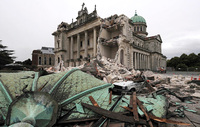 Anglo Pacific International Plc, the UK's largest independent international removals company, has reported that removal bookings for New Zealand in 2011 are 26% up on 2010. The Company has experienced greater growth this year to New Zealand than any other migration market and believes that the skills shortage caused by widespread earthquake damage could be partly responsible.
In February 2011 an earthquake of magnitude 6.3 struck the Canterbury region of New Zealand and was centred just 10km from Christchurch – the country's second most populous city. The most destructive in a year-long earthquake swarm affecting the Christchurch area, the disaster left many casualties and insurers with a total rebuild cost of around $15 to $16 billion NZ. Now, in the aftermath, New Zealand's single largest issue is a shortage of skilled labour.
Jason Diggs, Anglo Pacific's Sales Director and a native of Christchurch himself, comments "Whilst native New Zealanders are of course priority candidates, there is an acknowledgement that overseas tradesmen and construction experts will have to plug the shortfall. The Canterbury Employment and Skills Board, a body set up in the wake of the earthquakes, has made a concerted effort to urge expat New Zealanders return home and help with the reconstruction. This Board will be attending migration and employment Expos across the UK in the coming months to recruit both expats and Britons to bolster Christchurch businesses. Judging by Anglo Pacific's much increased export bookings for New Zealand, their efforts could bear fruit."
Estimates suggest that at least 8,000 construction workers will be required to rebuild and repair Christchurch's 100,000 damaged homes. If the rebuild is rolled out at a fast rate, literally tens of thousands of additional workers will be needed and, even if the program is staggered over ten to 15 years, the local Christchurch employment market still would not be able to cope. The problem has been exacerbated by an exodus of Christchurch residents who have sought jobs and lives elsewhere to free themselves of the difficult conditions.
Canterbury Employment and Skills Board (CESB) Deputy Chairman, Alex Bouma, said unprecedented opportunities exist in Christchurch for skilled workers willing to relocate. "There is going to be huge economic opportunity in Canterbury over the next three to ten years. There's been expansive coverage of the disaster and what we're trying to say now is that the business community has moved beyond that to a large degree. Sure we've still got a lot of things to deal with, but now there are unprecedented opportunities they can be a part of."
Ironically, even before the unprecedented string of seismic activity, New Zealand was in need of more skilled labour. Hiring had already become increasingly difficult in the IT and computer sector to keep abreast of changing technology and the health sector is also crying out for staff. Prudence Thomson of ACCENT Health Recruitment based in Christchurch confirms, "All specialist disciplines are needed with acute shortages in mental health, orthopaedics, radiology, surgery and anaesthesiology, emergency – in fact most areas. General practitioners are also in high demand. Nurses working in New Zealand can expect to earn about $60,000NZ a year, approximately £31,000, and doctors earn upwards of $150,000NZ, approximately £76,000. The cost of living in New Zealand is considerably lower than the UK and the great lifestyle a major draw for people wanting a change of pace while still being able to advance their medical careers".
In the aftermath of the earthquakes, occupations in particular demand include project managers, engineers, architects, urban planners, electricians, plumbers, joiners, plasterers, roofers and plenty more as Christchurch attempts to build almost an entire CBD from scratch. Utilizing its vast network of contacts built over 30 years of trading, Anglo Pacific offers a dedicated job search service with applicants invited to register free of charge and without obligation via anglopacific.co.uk/jobs_abroad.htm. Completed registrations are forwarded to specialist recruiters within all the key disciplines - Anglo Pacific partners with a number of specialist recruiters in New Zealand, and many more in South Africa and Australia.
And, of course, if New Zealand employers take on applicants through Anglo Pacific's network, the Company is likely to be their preferred choice to move their household effects. Anglo Pacific offers job candidates a free 25kg air courier shipment (worth up to £150) for essentials required immediately at a new overseas home such as tools of the trade, personal documents, laptops and seasonal clothing. The offer applies to job candidates who select Anglo Pacific for their international removal to a value of £1,000 or more. The courier service is available to most countries and typically offers a transit of between five to seven days door to door. Just quote your unique job registration number when you book your removal to avail of the special offer.
For more information, visit anglopacific.co.uk.