New Citroen DS5 UK premiere at Top Gear Live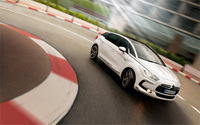 The New Citroen DS5 will make its UK premiere on the Citroen show stand at Top Gear Live this November, appearing at both the NEC Birmingham and ExCel London venues. This will be the UK public's first opportunity to meet one of the most eagerly anticipated new cars for 2012; the pinnacle of the distinctive DS line and the ultimate flagship model for Citroen.

Uniquely styled, beautifully appointed and full of 'Créative Technologie', DS5 is a resolutely modern and original approach to the premium executive car. DS5 is the first production Citroen to feature full-hybrid diesel technology, combining strong performance with extremely low CO2 emissions from just 99g/km.

Inspired by the world of aviation - including pilot-style overhead switches - DS5's cabin blends ergonomic function with aesthetic design. Immaculate attention to detail and authentic premium materials ensure an immediate impression of quality and refinement.

DS5 is an aerodynamic masterpiece with taut features, flowing lines and a dynamic profile. Eye-catching details include slender chrome 'sabres' that run from the tips of the headlamps to the front windows. The model's compact and agile design delivers exemplary handling and meticulous soundproofing for a thoroughly engaging driving experience. New Citroen DS5 will be launched in the UK in the first quarter of 2012.

Starring Clarkson, Hammond, May and The Stig with a host of celebrities and special guests, Top Gear Liveruns from 11-13 November at NEC Birmingham and 24-27 November at ExCeL London. For more information, visit topgearlive.co.uk.