Sheraton Maldives shares the recipes of their signature cocktails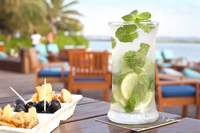 Sheraton Maldives Full Moon Resort & Spa has introduced Cocktail Classes to share the recipes of their most requested and signature cocktails.
Speaking regarding the cocktail class, Executive Assistant Manager for Food & Beverage Mr. Moon Kang said that "A lot of our guests are enticed by the signature cocktails that have been conjured by our skilled bartenders. We wanted to go the extra step and connect with our guests by showing how to make their favorite drinks as well sharing the recipes."
Sheraton Maldives shares the recipe for their signature cocktail Senorita Mojito;
Ingredients
Half Lime – Approx. 10g
02 Table spoons of Brown Sugar
Hand full of Mint Leaves
40ml of Bacardi Gold Rum
10ml of Elderflower Cordial
03pcs of Lychee
30ml of Soda
Instructions
Put all the ingredients in to an old fashioned glass and smash with muddler.
Once done, fill the glass with crushed ice.
"After all, we at Sheraton always believe that life is better when shared and felt that sharing the recipes with our guests was a truly memorable experience which they get to take back home and impress their friends and family.", Moon added.
The cocktail classes are scheduled every Sunday from 3pm to 5pm at the Anchorage Bar - Sheraton Maldives Resort.
For more details about Sheraton Maldives, visit sheraton.com/maldives.