Sheraton Maldives Chef's shares secrets and tips of popular signature dishes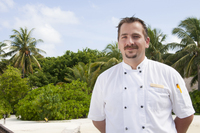 It's quite often, we wonder how a particular dish was made or why it tastes so good or even whether if we can try it ourselves once we go back home. But in most times, we are left pondering forever to the answers of our assumptions.
The Chef's at Sheraton Maldives Full Moon Resort & Spa have literally stepped out of the kitchen for the 'Cooking Class' to show teach how to master their cooking skills from preparing signature dishes to tips behind making a perfect barbeque.
Guests of this master class will also have the opportunity to dine with the Executive Chef of Sheraton Maldives, Mr. Sven Cepon himself at the 'Chef's Table' where he shares his secrets and tips as he personally guides the guests through the special set menu prepared for the lunch.
Speaking regarding the new classes, Chef Sven said that "Many of our guests are very curious by our creations and have a lot of questions on how certain dishes are made and the ingredients used. It's for this reason that you'll see the culinary team and I mingling and talking to the guests during their dining experience. From these interactions, we thought that something like this would be great, so that we get to share our experience and create memorable connections with our guests".
The Chef's Table is scheduled every other Thursday from 12pm to 2pm while the Cooking Class is scheduled every other Thursday from 11am to 1:30pm.
For more details about Sheraton Maldives, visit sheraton.com/maldives.