Tyresure now approved by Subaru and Isuzu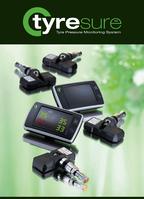 Tyresure, Europe's market-leading Tyre Pressure Monitoring System (TPMS) has just received another industry accolade by receiving approval from the UK importer of Subaru and Isuzu vehicles, International Motors.
The Coleshill-based concern has had the compact and stylish units on trial for several months, evaluating their efficiency and accuracy in every conceivable set of conditions and driving scenarios, as well as their ease of fitment and ability to withstand the rigours of an off-road environment, where both Subaru and Isuzu products are very much at home.
The Tyresure system monitors both pressure and temperature in each tyre, sampling both every three seconds and sending this information to the easy-to-read dashboard display for the driver to keep an eye on. If abnormal parameters are identified, the system immediately alerts the driver, turning the display from green to red and issuing an audible warning.
After a faultless performance in every category, the Tyresure units have achieved 'Official Accessory' status, meaning that before the end of the year, drivers of both marques will be able to have these fitted at their local dealerships, to improve safety, fuel economy and tyre life.
Commenting on this latest technical partnership, Tyresure Managing Director Ian Smith said, 'We are delighted to working with these two iconic brands. Although Tyresure has been a huge hit with the aftermarket, it was designed from the outset to be an OEM-quality enhancement. International Motors are obviously ahead of the curve in light of the forthcoming legislation to have TPMS as a mandatory factory fit by 2014. Our retro-fit units allow their owners to enjoy the tangible benefits of TPMS on a car that left the factory without it.'
For more information on Tyresure, visit tyresure.com.