Warming winter Porsche servicing offers from Autofarm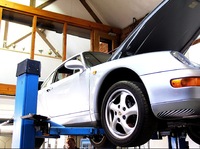 Independent Porsche specialists Autofarm is offering modern and classic Porsche owners an attractive servicing package making it easier and cheaper to service their cars this winter. The offer includes 10 percent off labour costs for all mechanical work, a free MOT if you spend over £500 and owners of post 1990 cars can receive a free diagnostics check.
Autofarm has also considered the hassle factor of car servicing and will collect and deliver for free within a 50 mile radius of its fully equipped workshop near Bicester, Oxfordshire. "We believe that this package is ideal for either those planning to use their Porsche through the winter or, for owners considering a final service before the off-season lay-up," says Autofarm's founder Josh Sadler.
Whilst renowned for its knowledge of all 911s, Autofarm's offer extends to all Porsches including Boxster, Cayman and Cayenne as well as the early cars that the firm has over 37 years' of experience working on. "We regularly service 997s, Caymans and Boxsters as well as the occasional Cayenne and expect that the offer will be a cost effective way for all owners to have a knowledgeable specialist maintain their Porsche," concludes Sadler.
For more information, visit autofarm.co.uk.