Cape Town wins World Design Capital award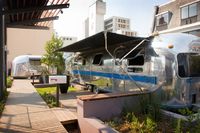 Cape Town specialist Fleewinter has created some mouth-watering deals in celebration of the city winning World Design Capital award last week.
According to Mokena Makeka, an architect and member of the Cape Town World Design Bid Committee, "Cape Town is an amazing crucible for ideas that resonate across the continent. In many ways, Cape Town could be the New York of Africa – a place where immigrants are welcome; a place where locals are welcome; a place where locals from the rest of Africa and of course where tourists are welcome."
One of Fleewinter's current special offers is a stay at the extraordinary Grand Daddy & Rooftop Airstream Trailers hotel in the centre of Cape Town and located on trendy Long Street.
There are regular rooms available but the hotel is renowned for its extraordinary Airstream Trailers* which are converted from seven vintage trailers imported from the United States and located on the roof!
Very popular with both residents and locals are the Daddy Cool bar and the trendy Sky Bar, located on the roof near the trailers. The hotel is close to the City's markets and also the V&A Waterfront with its wide selection of shops, bars and restaurants.
Fleewinter is offering 4-night stays from just £215 pp (two sharing) on a B&B basis (excludes Christmas/New Year). Fleewinter can also book flights, car hire and excursions to the Kruger, Winelands and Garden Route on request.
For more information, visit fleewinter.com.
*Airstream trailers are recognized by their distinctive rounded aluminum bodies, which originated in the 1930s from designs created by Hawley Bowlus, who was the chief designer of Charles Lindbergh's aircraft, the Spirit of St. Louis.
In 1969, upon their return from the Moon, the crew of Apollo 11 were quarantined in the Mobile Quarantine Facility, a modified airtight Airstream trailer, until it could be determined that there was little likelihood of their having brought back lunar pathogens with them.